Every year, Boring Money honours the brightest and best companies in the world of personal finance with its 'Best Buys'. The list features financial services providers based on a number of different criteria, from customer reviews to cost to Boring Money's own 'expert view', to give investors an idea of who to trust with their money. 
The awards recognise a number of aspects of financial services, from how well they cater for beginners to how much they cost. Moneyfarm is delighted to have been included in two of Boring Money's categories for 2021, recognition that we feel reflects our hard work over the last year and beyond. 
These awards came just under a month after Moneyfarm came top of a Boring Money performance study, which tracked performance over a three year period. In the study, Moneyfarm performed better than 14 selected competitors, including the likes of Vanguard, Nutmeg and Hargreaves Lansdown. 
Best For Digital ISA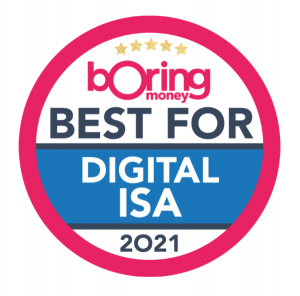 Moneyfarm was recognised in the 'Best For Digital ISA' category, which celebrates platforms that provide a great service on either desktop or mobile – or, in the case of Moneyfarm, both.
Boring Money's award reflects the growing role (particularly) mobile functionality plays in new investors choosing where to put their money. The award describes those in this category as having 'market-leading desktop and mobile experiences.'
WE MAKE MONEY SIMPLE FOR 60,000 INVESTORS
Find your ideal ISA today
Start now
Our business has been built with technology in mind since its inception. Our hybrid blend of human consultation and digital functionality is what, we believe, sets us apart as a wealth manager. Investors are able to fully control their account via the app if they need to make changes on the go, or they can just as easily get in touch with a fully qualified investment consultant who can guide them through any decisions.
Best For Customer Service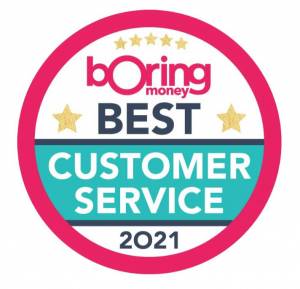 Moneyfarm was also selected for the 'Best For Customer Service' category. This is a new award for 2021, which Boring Money says reflects the added pressure that customer service was put under throughout 2020. 
2020 was a year defined by its distance, forcing everyone to interact with their financial services either digitally or over the phone. Moneyfarm has been focused on technology that creates transparency and ease of access since its inception, a commitment that Boring Money has recognised this year. 
We are also big believers in the need for access to human consultants when making investment decisions – our team of qualified investment consultants are a part of our service that our investors value extremely highly. The ability to talk through any big decisions, make transfers, or even just check in on the progress of a portfolio with an actual person are all key parts of our product. 
If you want to find out how a Moneyfarm ISA could help you grow your wealth, visit our page or feel free to get in touch with a member of our investment consultancy team. They'll be able to talk through your financial situation and recommend an investment solution that suits you. 
Match with a portfolio and start investing today
Simple, efficient and low cost, Moneyfarm helps you protect and grow your money over time.
Sign up with Moneyfarm today to match with an investment portfolio that's built and managed to help you achieve your financial goals.
Make your money work harder for you, without breaking a sweat.
As with all investing, your capital is at risk. The value of your portfolio with Moneyfarm can go down as well as up and you may get back less than you invest.