When choosing where to invest their money, people look for a few key features from any given provider. Increasingly, investors want ease of access, control, quality advice and a portfolio that fits their goals. As both technology and understanding develop, these priorities are shifting and rebalancing to reflect that. 
There is, however, one all-important feature that isn't going anywhere any time soon: performance. For most of us, investing is about protecting and growing wealth for the future – ultimately, it's about the bottom line. Other areas like advice are arguably now just as important in an investor's journey, but the figure in the account at the end of the tax year is paramount. 
It's with this in mind that we're pleased to share a report from investment gurus Boring Money. The independent research found Moneyfarm to be the best performing investment platform from a list of 15. 
The study 
In 2018, Boring Money invested £500 into test accounts across 15 investment providers and robo advisors to track performance. The portfolios were 'medium-risk' and had as close to 60% in equities as possible at the time of investment. 
As the graphic below lays out, Moneyfarm was the only provider over the three-year period to break £600, outperforming the likes of Vanguard, Nutmeg and Hargreaves Lansdown, along with a number of high street banks.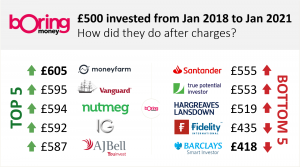 Source: Boring Money
The analysis leaves out complex spreadsheets and asset breakdowns to focus on the number investors really care about the most: the bottom line. So, even without taking into consideration Moneyfarm's active management, hands-on advice and accessibility, we're doing something right. 
Boring Money CEO, Holly Mackay, said: "As robo advisers experience continued growth, longer track records are shifting the focus from who has the snappiest app to a more fundamental performance decision.
WE MAKE MONEY SIMPLE FOR 50,000 INVESTORS
Sign up for free and discover which portfolio is ideal for you in 10 minutes. Invest when ready or talk to one of our investment consultants to discuss your financial goals.
Start now
"Over the past three years my £500 investment has made me £86 more with one provider than another. This sort of difference is material – and currently largely impossible to see if you are a retail customer shopping around for a ready-made solution."
The impact of fees
One of the limitations of Boring Money's study was that, with such a small amount invested, any fixed fees had a disproportionate impact on the performance of the portfolio. This means that any provider with a fixed fee or a minimum monthly fee struggled. 
So, to extrapolate the performance out to a significant investment account and level the playing ground in terms of fee structures, Boring Money simulated a £50,000 investment over the same time period. The results are below and again show Moneyfarm as the clear leaders.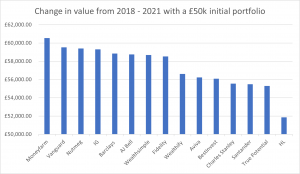 Source: Boring Money
How Moneyfarm works
Moneyfarm's investment approach is powered by technology and backed by expertise. What this means is that we have sophisticated tech that helps us make investment decisions, but control is never fully passed over to the machine – this is a common misconception that can make people less likely to take advantage of a 'robo-advisor'. 
At Moneyfarm, it is the combination of that tech and our team of portfolio management experts that drives such strong performance. All our investors need to do is tell us a bit about themselves so that we can build a portfolio that suits their goals and their attitudes – we take care of the rest. 
You can take a look at the four-year performance across our seven different risk levels here. Alternatively, if you want to discuss your options with one of our qualified investment advisors, please don't hesitate to get in touch. 
Match with a portfolio and start investing today
Simple, efficient and low cost, Moneyfarm helps you protect and grow your money over time.
Sign up with Moneyfarm today to match with an investment portfolio that's built and managed to help you achieve your financial goals.
Make your money work harder for you, without breaking a sweat.
Get started