The Principles for Responsible Investment (PRI) are a set of criteria created by the United Nations, aimed at promoting sustainable and responsible investing among institutional investors. 
They were created in early 2005, at the behest of the then Secretary-General of the United Nations, Kofi Annan, who invited a number of experts from the world of finance and civil society to draw up a series of principles. They encourage the responsible, sustainable investment of capital and, since the project began, the list of signatories has only grown (see the graph below).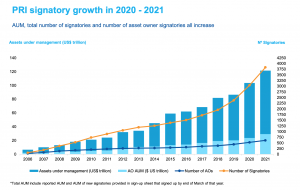 The initiative led to the creation of the principles for responsible investment. These are emblematic of the growing focus on environmental, social and corporate governance practices for investment companies. 
Adherence to the PRI means applying the following six principles:
Incorporating ESG issues into investment analysis and decision-making processes.

Being active owners and incorporating ESG issues into ownership policies and practices.

Seeking appropriate disclosure on ESG issues by the entities in which the company invests.

Promoting the acceptance and implementation of the Principles within the investment industry.

Working together to enhance the effectiveness of the implementation of the Principles.

Reporting on the company's activities and progress towards implementing the Principles.
At present, these principles have been signed by over 4,000 corporate signatories, which include institutional investors, asset management companies and other service providers. 
We make money simple for over 80,000 investors
Find your ideal ISA today
Start now
Moneyfarm joins PRI signatories
Moneyfarm's work has always been underpinned by a commitment to financial education and transparency. We believe that actively engaging with the wider movement toward responsible investing is a crucial part of our corporate social responsibility. 
We also recognise that, as an institutional investor, we have a duty to act in the long-term interest of our clients. With this in mind, we created our own line of socially responsible investment portfolios that closely reflect the PRI Principles. In January 2022, Moneyfarm became a PRI signatory to further improve how our business operates. 
Becoming a PRI signatory is an important milestone. which signals Moneyfarm's commitment to pursuing a corporate culture oriented towards social responsibility.
We are, however, perfectly aware that this is only the beginning of a long process. We'll work with the experts and the tools provided by the PRI to continue improving our investment policies and practices, more closely aligning them to the Principles and their requirements. 
From a practical point of view, becoming a signatory means that Moneyfarm will: 
Work with a dedicated PRI consultant to identify opportunities for improvement in our investment strategy. 

Have access to a data portal that can help us to more closely analyse the practices of the asset managers who issue the ETFs that we use in our portfolios. 

Have access to conferences and a broader educational platform, which will keep our team up to date on any relevant changes in the world of responsible investments. 

Have the right to vote in the election of the UN PRI Council. 
Responsible investing is a fundamental requirement for Moneyfarm to effectively fulfil our role as a wealth manager and contribute to future change.
Match with a portfolio and start investing today
Simple, efficient and low cost, Moneyfarm helps you protect and grow your money over time.
Sign up with Moneyfarm today to match with an investment portfolio that's built and managed to help you achieve your financial goals.
Make your money work harder for you, without breaking a sweat.
As with all investing, your capital is at risk. The value of your portfolio with Moneyfarm can go down as well as up and you may get back less than you invest.