Why is now a good time to invest?
With the 5th of April deadline approaching, you may be asking yourself 'Is now a good time to invest in a stocks and shares ISA?' Last year made us think a lot about the safety of investing, especially in stocks and shares.
Despite the volatility, we saw in 2022, Moneyfarm thinks it is a good time to invest. We believe we shouldn't let short term volatility dictate our long-term goals. Here's why:
Markets are expected to do much better over the next 10 years
Put simply, our outlook for potential returns for your investments has never been better. For example, if you invest in equities for the long term, we predict an average return of 8% per year for the next 10 years, which is a remarkable improvement from previous years. What's more, fixed income investments are predicated to produce the highest expected returns since we began tracking them in 2014. So, if you're looking to grow your wealth over the long term, there's no better time to do it than investing right now.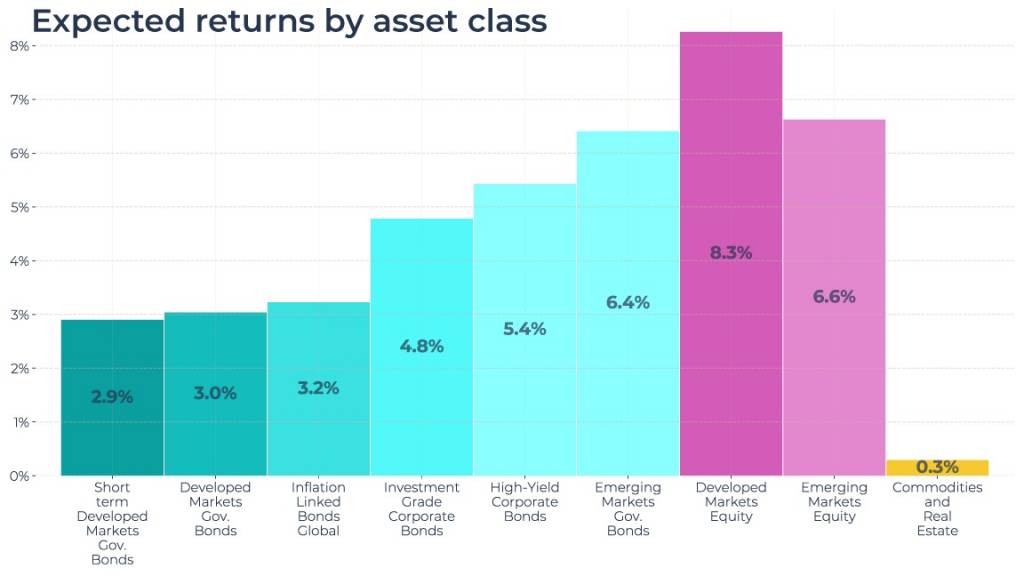 History shows us that there are more good times than bad
During a downturn or a bear market, it can be tempting to panic and sell off your investments. However, historical data from 1950–2022 shows that this is unlikely to be the best course of action. In fact, after a market correction, the median one-year performance is 30%, while after a bear market, it is a median of 37%. This performance then normalises in three years to a median of 18% and 20%, respectively. History also shows us that there are generally more positive years than negative ones (see second chart below). That's why it's crucial not to miss out on the rebound.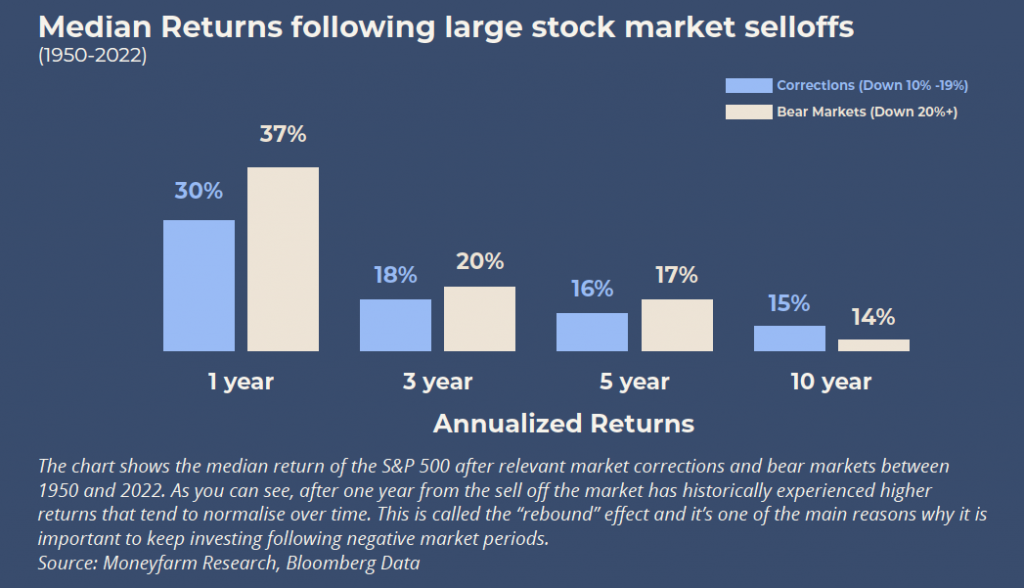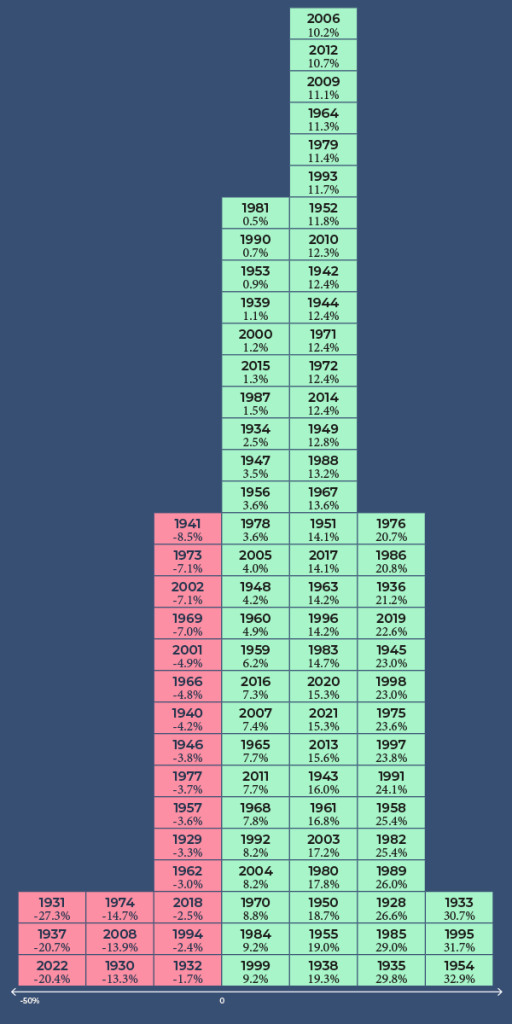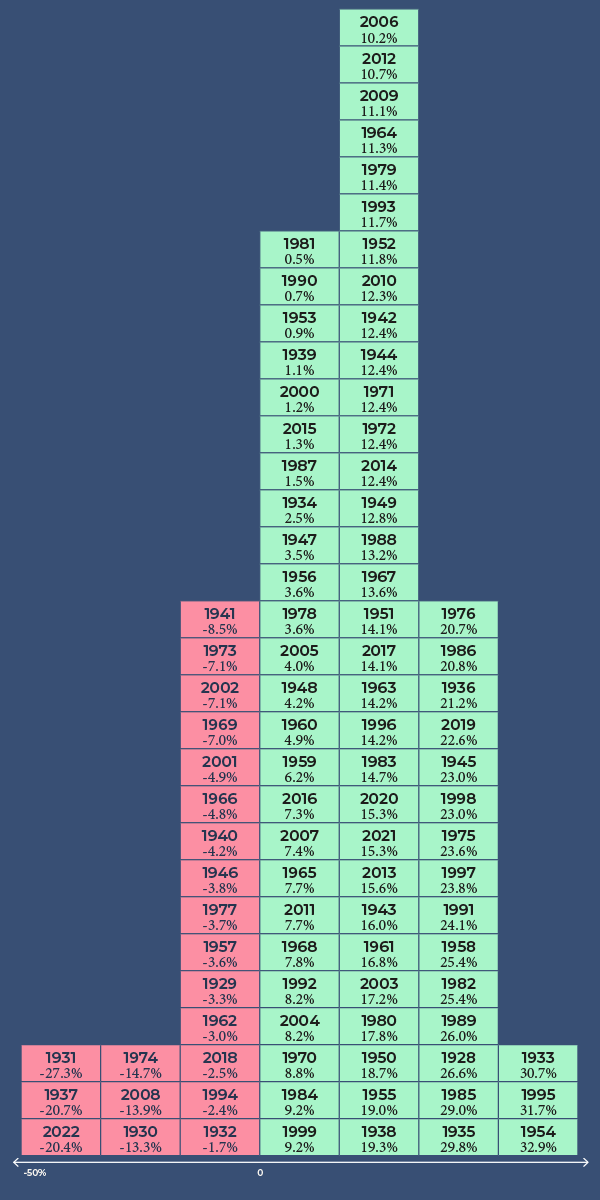 You could beat inflation through compounding
With current levels of inflation, your capital could lose over 10% of its purchasing power within the next year. Even if you assume a 2% inflation rate, which is the Bank of England's target, your capital could still lose a further 15% (or more) of its purchasing power in the next 10 years. For example, if you have £100,000 in the bank, its real value could decrease to less than £75,000 in a decade if just kept in a cash account. With the right investment strategy and by taking advantage of compounding you can potentially earn returns that outpace inflation and help secure your financial future.
You can maximize your tax allowances following tax increases
The rules are changing and several allowances will be cut, potentially resulting in increased taxes for many people. To optimise your tax position, it's important to take advantage of the available tax-free investment options.
From next year, your Capital Gains Tax (CGT) allowance will be cut from £12,300 to £6,000 in April, before being halved again to £3,000 from April 2024. By using your ISA and pension allowance now, you can take advantage of tax-free investing and potentially see significant returns in the future.
You can invest in the new wave of tech innovation
In the past 10 years, tech companies like Apple, Google and Meta have revolutionised society with their products, and in turn, have generated significant wealth for early investors. Today, we're seeing a surge of new investments in emerging technologies, presenting a unique opportunity to ride the next wave of tech innovation. To help investors capitalise on this megatrend, we recently introduced a new thematic portfolio targeting breakthrough technology and innovation. Thematics also invest in trends associated with societal changes and in services and products that will help to save our environment. So, the earlier you invest the more of a difference you could make not only to your savings but to others as well.
You can take advantage of Moneyfarm's cashback deal
By investing now you can take advantage of Moneyfarm's current cashback offering. You can get up to £750 cashback depending on how much you invest with us. The offer ends this year on the 30 April. If you want to know more about this offer and how it works, see our website for terms and conditions.
In conclusion, there's been a lot of talk about a recession. But fear of a recession shouldn't keep you out of the market.
While market downturns can sometimes come before recessions, it's also true that market rallies can happen during economic downturns in anticipation of a recovery. Avoiding the market during these times can have a negative impact on your financial outcomes for many years to come, so investing now can be hugely beneficial.
For further information contact us through the app or call us on 0800 433 4574 or contact us through our app or or website.
*Capital at risk. Tax treatment depends on your individual circumstances and may be subject to change in the future.