This month's market update focuses on the unique circumstances the global economy currently finds itself dealing with. From the situation in China to the fears about inflation in the West, the aftermath of Covid-19 is presenting challenges (and opportunities) that could define how the rest of the year shapes up.
Having said that, the rhetoric coming from both the ECB and the Fed is one of reassurance and cautious optimism. Central banks appear to believe that issues like shipping costs will ultimately prove to be transitory and that long-term inflationary pressures are far from a certainty.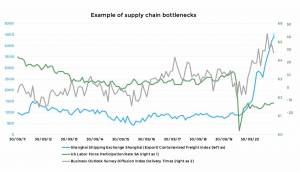 We make money simple for over 80,000 investors
Find your ideal ISA today
Start now
The graph above represents some of the bottlenecks currently impacting the global economy. Against the backdrop of a much more difficult labour market than in the pre-covid period (fewer people at work), container costs and delivery times for businesses have risen dramatically. All of these factors translate into higher prices for end consumers, a consequence that, according to central banks, should prove to be transitory.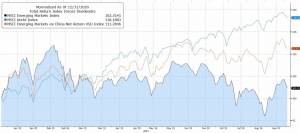 The next chart shows the impact of China on the MSCI Emerging Markets Index, relative to the World Index. After a promising start to the year, emerging countries underperformed against developed markets, posting a negative performance in recent months. The situation in China has negatively affected the sector, an issue that, again, may prove to be transitory.
Match with a portfolio and start investing today
Simple, efficient and low cost, Moneyfarm helps you protect and grow your money over time.
Sign up with Moneyfarm today to match with an investment portfolio that's built and managed to help you achieve your financial goals.
Make your money work harder for you, without breaking a sweat.
As with all investing, your capital is at risk. The value of your portfolio with Moneyfarm can go down as well as up and you may get back less than you invest.