Research we conducted earlier this year with Explain the Market showed that three million Brit's are turning to their smartphones to solve their financial worries. Gone are the days where we were happy to conduct hours of research and visit five different branches, there simply isn't enough time. If financial advice is available in your pocket, at the touch of the button, that only serves to make lives easier.
When that simplicity is combined with the functionality that allows you to test and learn, that makes for a great investment experience.
The new MoneyFarm investment app
We've refined our app, the first full-service investment app to hit the UK market, so you can now upload all your documents via your phone. Some people fail the identity test, that happens with a lot of financial providers, but now you can take a picture of your driver's license or utility bill and continue through to set-up your account.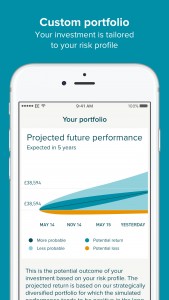 Build a test investment portfolio
Not only is it easy to sign up but you can also get all the information on your investment before transferring any money. We understand that it can be a big undertaking to start investing, and you not only want to understand what kind of investor you are, but also what your investment will look like.
Sign up to receive the Moneyfarm newsletter
Get the latest news and tips for managing your finances, straight to your inbox.
By making an investment, your capital is at risk.
When you sign up with MoneyFarm you answer questions on your financial understanding, appetite for risk, and financial circumstances. Our algorithm, built using behavioural economics, then creates your investor profile. You will then see a sample portfolio that matches this profile, and you can see what a globally diversified portfolio looks like, and how you will be able to interact with your investment.
Keep investing simple
Then comes the fun bit. Once you're happy with your profile and your test portfolio you simply select the amount you want to invest and fund your account. You can create an account with as little as £1, set-up a monthly direct debit, invest with a lump sum, or both.
We think it should be simple to manage your money, and it shouldn't cost the earth. Start your investment journey by building a demo portfolio on the MoneyFarm app.
Match with a portfolio and start investing today
Simple, efficient and low cost, Moneyfarm helps you protect and grow your money over time.
Sign up with Moneyfarm today to match with an investment portfolio that's built and managed to help you achieve your financial goals.
Make your money work harder for you, without breaking a sweat.
Get started