Last year was a tough year for markets, with markets such as the S&P 500 finishing down 19.44% and major bond markets dropping heavily. It was certainly a stand out year for financial markets but it wasn't necessarily something we haven't seen before.
Over the last few decades, stock markets have had plenty of bear and bull runs. A bear market, by definition, is a fall of 20% or more while falls between 10%-20% are considered merely a correction. Historically, markets tend to have strong performances after bear markets rather than corrections.
The chart below shows the median annual return of the S&P 500 after bear markets and corrections between 1950 and 2022. As you can see, after one year from the sell off the market has historically experienced higher returns that tend to normalise over time. This is called the "rebound" effect and it's one of the main reasons why it is important to keep investing following negative market periods. Missing these historically strong periods of markets has proven in history to be very costly to investors long term returns and chances of reaching their goals.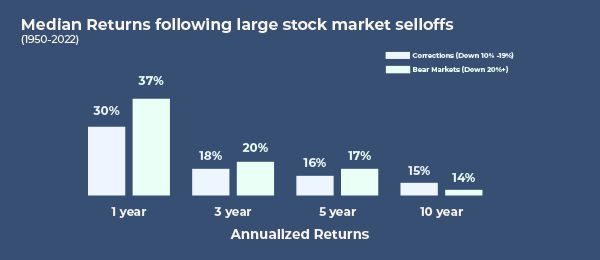 This by no means promises that from this day forward we are guaranteed success, but the fact that equity markets have started 2023 with a charge is not a surprise to people in the industry.
Long term outlook
Above we show that historically those who have stayed invested and perhaps started investing in negative periods, have enjoyed the returns that these rebounds have given them. However, trying to time the market is incredibly difficult and something that most people get wrong.
We make money simple for over 90,000 investors
Find your ideal ISA today
Start now
As with all investing, your capital is at risk. T&Cs and ISA rules apply.
The real key is that, history shows us, that the long term investor benefits from generally staying invested. The chart below shows the returns for each year for a 60/40 portfolio  from 1926-2021.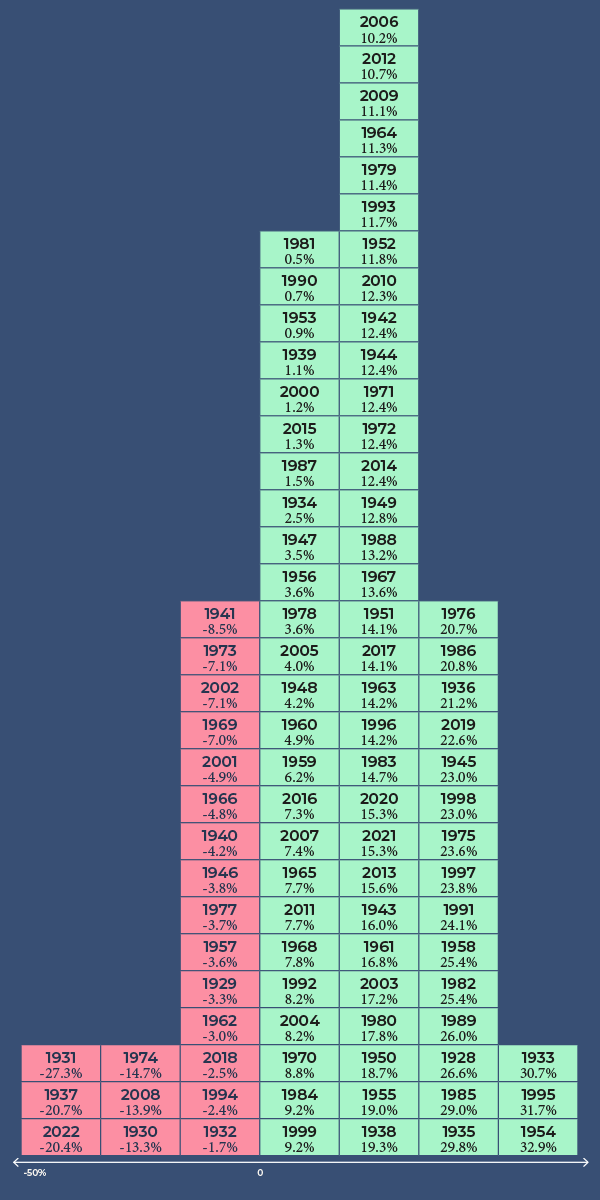 Historically, the positive market years have vastly outnumbered the negative years. Investors who had the time horizon could sit comfortably through negative periods knowing that would be rewarded by a higher number of positive years.
What should I do as an investor?
Everything boils down to suitability. At Moneyfarm we will create a portfolio that we deem to be suitable to your risk tolerance and time horizon. It's created with volatile years, like 2022, in mind. The key is to stick to the plan and keep building for your future.
If you are yet to fill your ISA allowances for this tax year, then the sell off in 2022 may well have created a nice entry opportunity for you. With market valuations being a lot lower than last year, our analysis for the future is looking a lot better. Especially as mentioned earlier, if history is to repeat itself and markets react as they always have done, exciting years are in front of us.
Secure your spot at our annual event
Discover Moneyfarm's investment strategy for 2023. On February 28th at 6pm, we'll share our strategic view for 2023. Register here.
Match with a portfolio and start investing today
Simple, efficient and low cost, Moneyfarm helps you protect and grow your money over time.
Sign up with Moneyfarm today to match with an investment portfolio that's built and managed to help you achieve your financial goals.
Make your money work harder for you, without breaking a sweat.
As with all investing, your capital is at risk. The value of your portfolio with Moneyfarm can go down as well as up and you may get back less than you invest.