2020 has been a turbulent year. With volatility affecting the markets as a result of the global pandemic, we've been impressed by the loyalty and resilience of our investors, with those that stayed invested reaping the rewards. 
In August, the US stock market posted record numbers, largely recovering from the losses of February and March within just six months. We're currently at a delicate stage – the low returns on savings accounts, depressed wages and property values still pose a risk. As a result, managing your cash well now is going to be crucial in the long term. 
We believe that investing in financial markets will continue to be one of the best avenues for protecting your wealth in the coming years. Values can fluctuate in the short term but history teaches us that, after a downturn, stock markets tend to rally and investors are rewarded.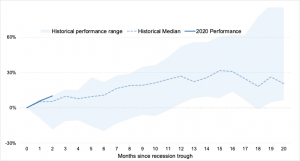 We make money simple for over 80,000 investors
Find your ideal ISA today
Start now
Average performance of the S&P 500 in the 20 months following a recession, compared with current performance. Data taken from Bloomberg, analysed by Moneyfarm, on every recession of the post-war period.
On the other hand, keeping cash in a bank account doesn't guarantee protection of wealth. Interest rates that don't keep up with inflation can eat into the real value over time, while you're also missing out on any growth in the markets. 
A lot of people kept their cash in bank accounts for the past six months, either because they've decided to disinvest or because they were waiting for the perfect moment to invest. Over that time, they've potentially missed the bounce which, in the case of the US stock market, gave back 52%.
Investing consistently and for the long term is, we believe, the only way to avoid missing out on future opportunities in the markets. Start planning for the long term now. 
Match with a portfolio and start investing today
Simple, efficient and low cost, Moneyfarm helps you protect and grow your money over time.
Sign up with Moneyfarm today to match with an investment portfolio that's built and managed to help you achieve your financial goals.
Make your money work harder for you, without breaking a sweat.
As with all investing, your capital is at risk. The value of your portfolio with Moneyfarm can go down as well as up and you may get back less than you invest.