What are we talking about? The US economy was expected to grow in 1Q22. Instead it shrank, according to data from last week. That seems worth digging into
What did we see? The Bloomberg consensus expected 1% GDP growth in 1Q22 (annualised quarter-on-quarter). The report came in at -1.4%. A lot of that was down to net exports – where export growth came in weaker than expected. But we also saw private consumption growth come in weaker than expected (2.7% vs 3.5% expected). On the inflation side, we saw the PCE deflator (a popular metric for the Fed) come in at 5.2% vs 5.5% expected, but the GDP price index was higher than forecasts. Our preliminary conclusion was that maybe we're already beginning to see signs of a slowing economy, albeit from pretty robust levels.
What about the market reaction? You shouldn't say too much about the immediate market reaction to a single data release, but it was interesting to see that financial markets, in aggregate, didn't react particularly aggressively on the day. Bond yields generally rose, despite weaker data. The dollar didn't sell off – in contrast, for instance, to the reaction of sterling to weaker retail sales data. One conclusion might be that the Fed has already made its collective decision on tightening, as we'll see this week, and short-term data releases won't change that. Expectations for the tightening cycle didn't move very much either (see chart below) – maybe you could say that expectations for rate hikes in 2023 have come down very slightly over the past few days, but it's a stretch.
We make money simple for over 80,000 investors
Find your ideal ISA today
Start now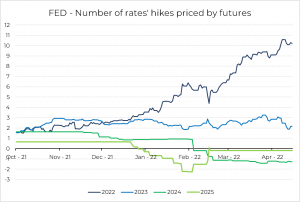 Where does this get us? The Investment Committee spent some time this week discussing inflation. We think that we're beginning to see signs of weaker macro and potentially the start of an inflation slowdown – and some parts of this GDP release would support that view. It's very early days, and it's largely expected by financial markets, but slower inflation could bring some welcome relief to consumers and to financial markets.
Match with a portfolio and start investing today
Simple, efficient and low cost, Moneyfarm helps you protect and grow your money over time.
Sign up with Moneyfarm today to match with an investment portfolio that's built and managed to help you achieve your financial goals.
Make your money work harder for you, without breaking a sweat.
As with all investing, your capital is at risk. The value of your portfolio with Moneyfarm can go down as well as up and you may get back less than you invest.