There comes a time in every brand's life when you feel like you need a change. Not in terms of the business or what we do for our customers – that stays the same – but just in how we represent ourselves. 
In short, we've brightened things up. We've given our website a bit more room to breathe and we've introduced a calmer, brighter colour palette to better reflect how we feel about what we do. Investing with Moneyfarm is about ease, simplicity, quality of service and optimism – all things we'd associate with a bright, stripped-back look.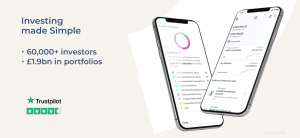 We've spent a lot of time thinking about what the fundamentals of our business are. To name a few, we settled on dreaming big (like our customers!), building strong positive relationships, and developing trust to drive success. Our new look is built to reflect these – you'll find images of exploration, relaxation and creativity. 
When our customers look at Moneyfarm, we want them to see a bright, easy, clear interface to help them achieve their bright, easy, clearly laid out goals. So, we asked our in-house design and product teams to get to work. 
A look at our style over time
Back in the day, Moneyfarm's look was all about simplicity. As a business, our job was (and still is) to make investing simple and straightforward, so we built a site and app to reflect that. Clean lines and bold, decisive colours tied in well with our ethos.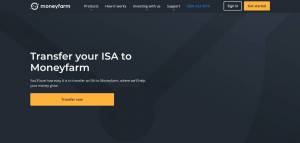 The next iteration of our branding was all about the lifestyle we want our investors to enjoy. Sticking with the broad tenets of simplicity and ease, we wanted to inject a sense of relaxation and give our look more warmth. The man in the hammock is how we wanted our investors to see themselves, to take the stress out of investing and highlight the good things in life.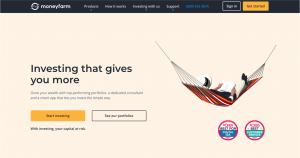 And now we come to our latest design. Building on our focus on lifestyle and a commitment to simplicity, we've opened our style up and injected more vibrancy into our colour palette. With more room to breathe and images of adventure and serenity, we want our investors to know that the financial journey they're embarking on is taken care of – all they need to do is enjoy themselves. 
Our new lighter, more welcoming colour palette is consistent across our app as well. Moneyfarm is a human, experience-driven wealth manager and it's important to us that this is reflected everywhere our investors interact with us.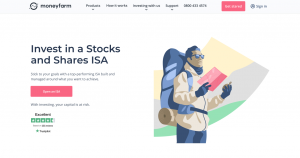 A large part of the redesign was about aligning the appearance of the various different parts of our platform. We've been able to give more prominence to the key information our investors need (graphs, tables, figures etc.) by keeping colouring consistent between the mobile app and the website. This largely meant improving the contrast between the light and the dark on the platform. 
By cutting down on the different colours previously used for the same actions (yellow, magenta, cyan, midnight blue) and going with watermelon as the only accent colour, we've allowed the product to be more closely linked to the brand. Finally, this redesign also helps us lay the foundations for a future night mode, stay tuned!