At the end of each quarter, we send our investors a comprehensive breakdown of their portfolio's performance and the factors that contributed to it. It's a document stacked with insight from our asset allocation specialists, as well as useful data about how and why the portfolio behaved the way it did. 
The end of the final quarter of 2021 was a good opportunity to take stock of what was, all told, a good year for investments. The spread of the Omicron variant threatened to derail progress and rising inflation is a cause for concern, but neither was enough to dull what was a positive year for the majority of investors. 
Here, we'll use the example of our P4 portfolio – a mid-risk level portfolio – to give you an idea of what the report contains and how it benefits our investors. If you want to find out which portfolio is best suited to your long-term financial goals, follow this link to sign up with no obligation. 
How our portfolios performed
As ever, the most important metric in the quarterly report is performance. This is the fundamental factor on which we're judged as a wealth manager and the report gives a clear picture, along with detailed insight, about how the performance came about. 
Below is the performance of our P4 portfolio. As you can see, Q4 was a positive period for this portfolio and marked the end of a positive year. The portfolio has continue to outpace our benchmark since the Covid-19 dip in early 2020.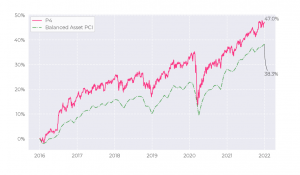 ​​*Click here for all the info on how we calculate performance
Our quarterly reports keep investors in the loop on not only the performance of their various assets but also the reasons. We explain how broader market trends have an impact on our portfolios, as well as the situations in which they don't. Our portfolios are, generally, fairly well protected from problems in specific geographies or within specific asset classes.
Through these reports, our investors are fully in the loop regarding any decisions our asset allocation specialists take and the impact they may have on their investments. 
WE MAKE MONEY SIMPLE FOR OVER 80,000 INVESTORS
Find your ideal ISA today
Start now
Where we invest
It's also important that our investors can see the composition of their portfolios in full. We like to make it clear where we've invested their funds and how that relates to their chosen risk level. For example, lower risk portfolios tend to consist more of bonds, where higher risk portfolios will be more heavily weighted towards equities. 
This part of the quarterly report is only made more important when we rebalance our portfolios – as we did in October – to take advantage of (or protect against) certain market trends. 
As you can see from the breakdown below, the P4 is a relatively balanced portfolio, with a mix of bonds and equities.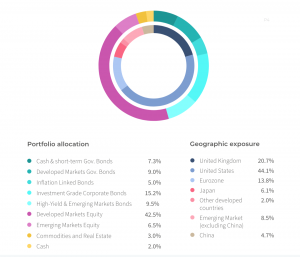 The report features plenty of other metrics that will be of interest to many investors. These include explanations of how allocation in a given risk level has changed over time, how the volatility has affected performance, and the various currency exposures in the portfolio, to highlight a few. 
Looking ahead to 2022
The report also looks ahead to the coming quarters and considers what the key topics will be. This is something our asset allocation specialists do on a regular basis, so it's important to be able to share the insight with our investors. 
Q4 was affected by some key themes that are likely to continue into 2022. A spike in inflation was an important topic in Q4, while the spread of Omicron brought the issue of Covid-19 right back to the fore. Going forward, the performance of US equities, the continued fight against Covid and the measures central banks may take to combat inflation will all be important to keep an eye on. 
As ever, our asset allocation specialists will be monitoring markets daily and will be ready to make any changes if necessary. We head into 2022 with cautious optimism and we remain confident in our long-term outlook. 
If you want to see the full report for our P4 portfolio, download it here. 
Match with a portfolio and start investing today
Simple, efficient and low cost, Moneyfarm helps you protect and grow your money over time.
Sign up with Moneyfarm today to match with an investment portfolio that's built and managed to help you achieve your financial goals.
Make your money work harder for you, without breaking a sweat.
As with all investing, your capital is at risk. The value of your portfolio with Moneyfarm can go down as well as up and you may get back less than you invest.