Money Age have named MoneyFarm stocks and shares ISA provider of the year for 2016. We beat the likes of AJ Bell and Bestinvest to the title, with the judges giving a special mention to our innovation and pricing structure which is opening up the world of investing.
The Money Age awards recognise excellence, professionalism and innovation in the hugely competitive personal finance space. The judging panel is made up of the Chief Executives from some of the leading industry bodies; the Consumer Finance Association, the Personal Finance Society and the National Skills Academy for Financial Services to name a few. They select winners based on the products they provide, their innovation, and focus on value and customer service.
> Try the award winning MoneyFarm stocks & shares ISA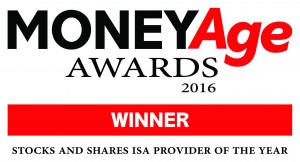 WE MAKE MONEY SIMPLE FOR OVER 80,000 INVESTORS
Find your ideal ISA today
Start now
The MoneyFarm stocks and shares ISA enables you to invest your ISA allowance efficiently. You won't pay any management fees on the first £10,000 you invest and then just 0.6% on everything above £10,000 up to £100,000. Not only will you be sheltering your investments from income and capital gains but you'll also benefit from low management fees as a larger portion of your investments are able to experience compound interest.
MoneyFarm were the first UK investment provider to offer a full service app; you can set up an account, fund your account and withdraw money all via your phone. Alongside this we were an early adopter of ISA flexibility meaning you can withdraw and top-up in the same tax year without impacting your ISA allowance. This is all part of empowering our investors to take control of their wealth.
The team work relentlessly to ensure we provide a product that will help consumers on their journey to a stronger financial future and it was fantastic to be recognised for this. We look forward to being able to offer more features in the future.
Match with a portfolio and start investing today
Simple, efficient and low cost, Moneyfarm helps you protect and grow your money over time.
Sign up with Moneyfarm today to match with an investment portfolio that's built and managed to help you achieve your financial goals.
Make your money work harder for you, without breaking a sweat.
As with all investing, your capital is at risk. The value of your portfolio with Moneyfarm can go down as well as up and you may get back less than you invest.