At Moneyfarm, we're always looking for new ways to make investing simple and accessible for as many people as possible. We're also aware that, for a lot of people, the cost of investing in an actively managed portfolio can be a blocker when deciding where to put your money.
So, to provide an alternative to our actively managed portfolios, we're introducing Fixed Allocation portfolios to our suite of products. These are hands-off, low-cost investment portfolios that rely on a systematic fixed allocation.
By removing active management from the process and focusing on reducing fund costs, we can allow investors to access a diversified portfolio at an even lower cost.
In this article, we'll explain what fixed allocation is, how our new portfolios work, what makes them up, and why you might want to consider one.
What is a fixed allocation portfolio?
As the name suggests, the key difference between actively managed and fixed allocation is that the new portfolios are not rebalanced regularly to respond to market developments. Ultimately, fixed allocation removes the human intervention from investing. 
The portfolios will be rebalanced once a year, using a rules-based system to create durable and diversified portfolios, which will be structured for drift through the year. Our Asset Allocation Team will continuously check for the lowest-cost way to implement this portfolio for our customers, ensuring that the funds in our portfolios are both low-cost and high-quality. 
This fully passive solution to investing allows for lower costs. Having said this, we strongly believe that our active portfolio management adds value, as our experts are consistently monitoring risk and finding opportunities. This is our flagship product and our strong track record against our competitors shows how much of a difference active management can make. 
We also believe that a managed portfolio can help investors avoid unnecessary action, with the peace of mind that comes with knowing that a team of experts are at the helm. For some, though, cost will be the most important factor when investing and it's important that Moneyfarm is open to as many investors as possible.
What makes up a fixed allocation portfolio?
Like our regular portfolios, our fixed allocation portfolios will be made up of best-in-class ETFs spanning a range of industries and geographies. The higher the risk level, the more the portfolio will consist of equities, whereas lower-risk portfolios will be made up of more bonds. 
We make money simple for over 90,000 investors
Find your ideal ISA today
Start now
As with all investing, your capital is at risk. T&Cs and ISA rules apply.
Where the portfolios differ in terms of their constitution stems from the fact that our fixed allocation portfolios are built using historical data, as opposed to the forward-looking approach we also use with our regular portfolios. We use the past 20 years of data and try to maximise returns for each level of risk.
Fixed allocation portfolios don't include high-yield or emerging market debt. Allocations between assets and geographic regions will also likely differ to the classic range.
The duration of the bond portion of the portfolios will differ, since we have taken an active decision to reduce duration in our managed portfolios. No hedged equity ETFs to reduce costs also means a higher US dollar exposure. 
How do they differ from actively managed accounts?
The basis for a fixed allocation portfolio is to achieve the same diversification and long-term approach as our regular portfolios, but to keep costs as low as possible by taking a more hands-off approach and foregoing active portfolio management. 
The table below shows how the packages differ, with fixed allocation offering fewer risk levels and no regular rebalances, while maintaining diversification, access to a consultant and control at your fingertips.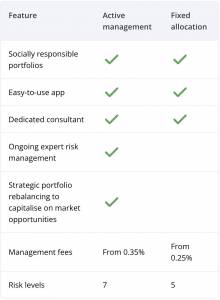 How do the fees compare?
Fixed allocation will represent a cheaper alternative to active management. Without the added value of regular, direct intervention from our asset management experts, we are able to reduce the fees associated with our fixed allocation offering. 
We strongly believe that active management is the best way to add value and peace of mind over the long-term, which is why we still recommend our actively managed portfolios. We are however aware that some prefer a more hands-off approach to investing. 
If you have any questions or would like to discuss what a fixed allocation investment portfolio could do for your long term financial situation, read more about them here or book a call with a member of our investment consultancy team.
Match with a portfolio and start investing today
Simple, efficient and low cost, Moneyfarm helps you protect and grow your money over time.
Sign up with Moneyfarm today to match with an investment portfolio that's built and managed to help you achieve your financial goals.
Make your money work harder for you, without breaking a sweat.
As with all investing, your capital is at risk. The value of your portfolio with Moneyfarm can go down as well as up and you may get back less than you invest.