At the end of every quarter, our investors are sent a full report detailing the performance of their portfolios. Packed with insight about both wider market developments and the details of the portfolio's composition, it is essentially a rundown of everything affecting the investor's progress over that period. 
The second quarter of 2021, for example, was about the continued steps toward some kind of economic normality. The focus of the quarter has been largely on inflation, as well as the stalling of the growth/value stocks rotation, while all eyes have been on central banks to see how they manage the transition back to ordinary economic activity. We're still some way away from knowing exactly what a post-Covid economy will look like, which is something for investors and wealth managers alike to keep an eye on. 
How our portfolios performed
The report's most important section details performance. Investors are given a full breakdown of how their portfolio performed over the quarter, along with information about the specific assets that made the difference. We also then compare that performance with an industry benchmark to give investors a reference point. 
Here's an example of how our relatively high-risk P6 portfolio fared over the second quarter of 2021. As you can see, the quarter saw the continuation of reasonably high volatility but, ultimately, the performance of the portfolio was positive.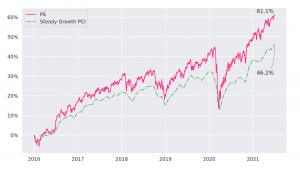 *Click here for all the info on how we calculate performance
Our quarterly reports keep investors in the loop on not only the relative performance of their various assets but also the reasons behind them. We explain how broader market trends have an impact on our portfolios, as well as the situations in which they don't. For example, over the last quarter, our portfolios were protected from the bulk of the inflation spike, thanks to our global diversification and our slight bias towards ETFs that contain businesses most badly hit by the pandemic. 
Through these reports, our investors are kept well and truly up to date with the decisions our asset allocation specialists are taking and the impact they may have on their investments. 
Where we invest
The report is also a way to ensure that investors are fully informed as to what actually makes up their portfolios. The proportions of different assets in our portfolios are determined by the risk level assigned to any given investor. For example, lower-risk portfolios will generally hold more bonds, while higher-risk portfolios will be more greatly made up of equities. 
We make money simple for over 80,000 investors
Find your ideal ISA today
Start now
When we decide to rebalance our portfolios – usually but not exclusively to take advantage of opportunities identified by our team – these percentages can shift. The report sent out to our investors explains, in full, the reasons for any changes to our allocation. 
As you can see from the breakdown below, the P6 is a relatively high-risk portfolio, so it features a significant chunk of equities.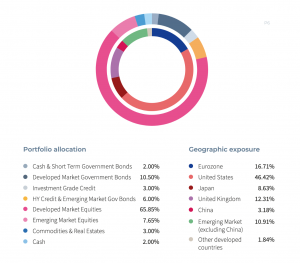 The report features plenty of other metrics that will be of interest to many investors. These include explanations of how allocation in a given risk level has changed over time, how the volatility has affected performance, and the various currency exposures in the portfolio, to highlight a few. 
Looking ahead to the next quarter
The quarterly reports sent to Moneyfarm investors are more than simple retrospectives. Part of detailing any changes made during the quarter, or analysing its trends, is to look ahead and assess where the opportunities and pitfalls may lie going forward. 
As we reach the halfway point of 2021, now is a good time to take stock of how far we've come. The efficacy of the global vaccine rollout remains just as big a talking point as it was in the first quarter of the year, while all eyes will be on countries like the UK as they open up their economies. Looking ahead, we're still positive that the latter half of 2021 will also be defined by recovery and a return to normality.
Whether or not inflationary pressures prove to be transitory, the central bank response to global developments, how smooth the vaccine rollout continues to be – these are just a few of the topics we've highlighted to keep an eye on as Q3 develops. As wealth managers, keeping investors to date on the topics that drive our decision-making process is an important part of our role. 
If you want to see an example of the report in full or want to discuss your own investment options, get in touch with our investment advisory team by phone or by email. They'll be happy to help.
Match with a portfolio and start investing today
Simple, efficient and low cost, Moneyfarm helps you protect and grow your money over time.
Sign up with Moneyfarm today to match with an investment portfolio that's built and managed to help you achieve your financial goals.
Make your money work harder for you, without breaking a sweat.
As with all investing, your capital is at risk. The value of your portfolio with Moneyfarm can go down as well as up and you may get back less than you invest.