After every quarter, our investors are sent a full breakdown of their portfolio's performance over the three month period. The quarterly report also features insight from our portfolio managers on the economic trends that defined the quarter. 
It's an important part of our service, particularly when the mood in the markets shifts or major new global trends emerge. The third quarter of 2021 saw a marked shift in tone from the two that preceded it – seemingly boundless optimism in the markets gave way to concerns around the future of the global economy as inflation and supply chain issues took hold. 
Here's a look at what our quarterly reports contain. In this example, we're going to use our P6 – a relatively high-risk portfolio geared towards our more risk-friendly investors. If you'd like to know which of our portfolios is best suited to your investment style, you just need to complete a quick online process by following the link below. 
Discover my portfolio
How our portfolios performed
For a lot of Moneyfarm customers, the most important part of the report is the section that breaks down performance. Our investors are given a breakdown of not just how their portfolio performed over the quarter, but also which assets contributed to (or took away from) that performance. We also then compare that performance with an industry benchmark to give investors a reference point.
To give you an idea, here's the performance chart for our relatively high-risk portfolio 6. As you can see, growth has been strong so far in 2021, despite the slightly more tumultuous last few months.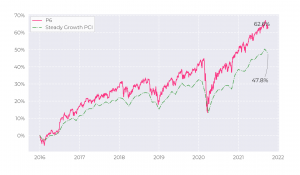 *Click here for all the info on how we calculate performance
Our quarterly reports keep investors in the loop on not only the relative performance of their various assets but also the reasons behind them. We explain how broader market trends have an impact on our portfolios, as well as the situations in which they don't. Our portfolios are, generally, fairly well protected from problems in specific geographies or within specific asset classes. This allowed us to watch on as the Chinese government clamped down on its tech giants from a position of relative detachment, for example. 
Through these reports, our investors are kept well and truly up to date with the decisions our asset allocation specialists are taking and the impact they may have on their investments.
WE MAKE MONEY SIMPLE FOR 60,000 INVESTORS
Find your ideal ISA today
Start now
Where we invest
We also think it is important for our investors to be fully aware of the constitution of their portfolios. This is why each quarterly report includes a full breakdown of where their funds are invested and how this pertains to the investor's risk level. For example, lower risk portfolios will generally consist more heavily of bonds, where higher risk portfolios will contain more equities. 
When we decide to rebalance our portfolios – as we did just after the close of Q3  – these percentages can shift. The report sent out to our investors explains, in full, the reasons for any changes to our allocation. We touched on the rebalance in this quarter's report but will go into more detail about its impact in the report for Q4. 
As you can see from the breakdown below, the P6 is a relatively high-risk portfolio, so it features a significant chunk of equities.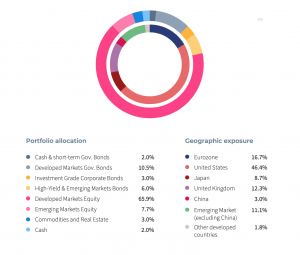 The report features plenty of other metrics that will be of interest to many investors. These include explanations of how allocation in a given risk level has changed over time, how the volatility has affected performance, and the various currency exposures in the portfolio, to highlight a few. 
Looking ahead to the next quarter
On top of summarising the previous quarter, the report also looks ahead to the coming months. Just as our investment management specialists do, the report looks at the issues that are likely to affect portfolios going forward. 
The relatively slow growth seen in Q3 came from a number of different factors. Supply chain issues, inflation, China's relationship with its tech giants, the job market – these are all factors affecting portfolios and are important topics for our asset management team to focus on and plan around. 
Just after the end of Q3, we decided to toggle our portfolios to ensure that they remain fit for purpose over the coming months. The rebalance only affected the fringes of our portfolios and there were no drastic changes, but both our lower risk and higher risk portfolios are better prepared as a result. You can see the full breakdown of the changes we've made to our portfolios here. 
If you want to see the full quarterly report for our P6 portfolio, click the link below.
Download report
Match with a portfolio and start investing today
Simple, efficient and low cost, Moneyfarm helps you protect and grow your money over time.
Sign up with Moneyfarm today to match with an investment portfolio that's built and managed to help you achieve your financial goals.
Make your money work harder for you, without breaking a sweat.
As with all investing, your capital is at risk. The value of your portfolio with Moneyfarm can go down as well as up and you may get back less than you invest.