All of humanity is facing an unprecedented challenge on which its entire future depends. A few years ago it was only scientists and activists who spoke about climate change. But today, the challenge to reduce our CO2 emissions is one vital to the future of humankind, and this mission now unites us all, regardless of nationality, religion or class.
The recent investment into reversing climate change may now not be enough. What is certain is that (at least in the Western world) a coalition between citizens, governments and companies is being created which is paying increasing attention to the issue. We believe that, in the coming decades, we will see a considerable increase in the legislation and capital put in place to facilitate the transition to a more sustainable economy.
To help investors use their capital towards building a better tomorrow, we've created a new product that allows them to utilise part of their portfolio to invest in ETFs geared towards the green revolution. This forms an important part of Moneyfarm's range of thematic portfolios and is designed to act as a supplementary investment option as part of your wider portfolio. According to our forecasts, thematic portfolios have higher potential returns in the long term, but carry with them the risk of greater volatility in the short term.
If you want to have access to Moneyfarm's personalised investment solution complete the quick online process to discover which of our portfolios is more fit to your needs.
START NOW
If you are already an investor just contact our team or access the portfolio through your dashboard.
Humanity's number one challenge
By now, most people have accepted that the way we live, consume and work will need to change if we are to fight climate change. Currently, most human activity produces CO2 emissions and fossil fuels are at the heart of everything we do – from transportation, to food production, and even heating our homes.
The green revolution is an economic phenomenon that involves transitioning from a fossil-fuel-based economy to a more sustainable, green economy. Many organisations, countries and companies are now pursuing a path of alignment with the global emissions reduction targets by 2030 and 2050. These targets are set out by major international laws, such as the EU's Green New Deal which was passed in 2019. The ultimate goal is to transform environmental challenges and climate-related crises into real opportunities that create prosperity and benefit society as a whole.
To achieve these ambitious goals, a great deal of public and private capital will need to be mobilised in the coming years, which will benefit the companies and sectors capable of helping society to work more efficiently in terms of emissions. Such sectors include those involved in the generation of alternative energy, as well as electric vehicles, batteries and components. We believe these sectors have the potential to financially outperform broader indices over the medium to long term.
Because of this, we decided to create a portfolio focused on companies that are the key drivers of energy transition. Before presenting the technical details of our Sustainability portfolio, it's useful to reflect for a second on Moneyfarm's general approach to thematic investments.
Moneyfarm's approach to thematic investing
Moneyfarm's thematic portfolios are all about investing in 'megatrends'. So what's the difference between a megatrend and a simple theme?
A megatrend is a broad economic change, while a theme encompasses a group of companies united, for example, by the shared use of a new idea or technological process. A megatrend is, therefore, comprised of a variety of themes. For example, the transition to a sustainable economy is a megatrend, while the search for new battery technologies, or for renewable energies, are themes within that megatrend. Moneyfarm's portfolios, including our Technology and Innovation portfolio, are multi-thematic, in that they contain different themes in each portfolio. But how do we decide what will constitute each portfolio and its themes?
1) Defining our thematic EFTs
Classic Moneyfarm portfolios consist of ETFs.
For thematic portfolios, too, we identified all the European and UK funds that we believed met the specific criteria, in this case Technology and Innovation.
We make money simple for over 100,000 investors
Find your ideal ISA today
Start now
Capital at risk. Tax treatment depends on your individual circumstances and may be subject to change in the future.
These ETFs:
Have a positive exposure to technological and socio-economic change.
Invest in companies that are part of a specific segment of the economy or a specific macroeconomic trend.
After a thorough review process, we identified more than 150 suitable ETFs.
2) Definition of themes through the pooling of funds
The next step is to define investment themes. ETFs are grouped into subgroups (clustering), each of which relates to a specific theme. To define the groups, we start from the chosen investment area (theme). To avoid any potential confusion or overlapping, we created a quantitative process that uses machine learning technology to analyse the content of the various funds. This also helps us to study correlations (a key step in understanding risk). Once the ETFs are grouped, we can then put a label on the various groups of funds (robotics, artificial intelligence, automation, smart cities). These then become the themes underpinning the final portfolios.
3) ETF selection process
Once similar ETFs are grouped correctly, we select the best ETFs to represent each theme within the given portfolios. Even in retrospect, we understand that the performance and volatility of various ETFs grouped in the same theme can vary a lot. When deciding on the best choice for our investors, we must take into account not only potential performance but also any potential risk.
4) Portfolio creation
The final stage in the process is portfolio creation. Firstly, we group the various themes (which are now represented by a single ETF) into a thematic portfolio. Next we group the various topics according to qualitative criteria, creating three portfolios that refer to a specific macro trend: e.g., Technological Innovation, Demography and Social Change, and Sustainability. Finally, we create a multi-trend portfolio containing a selection of the best funds. To avoid excessive concentration of risk, portfolios are optimised and controlled through qualitative processes.
The entire portfolio creation process is then monitored and reviewed on a regular basis:
To ensure that the level of risk remains consistent and appropriate for investors.
To update the composition of portfolios with the addition of new themes and new funds, so that the purpose of the given portfolios – investing in innovation – remains consistent over time.
Technical characteristics of the Sustainability portfolio
Moneyfarm's Sustainability portfolio actively invests in companies engaged in the green transition – the process of economic change that is driving the economy towards a more sustainable future. As we explained earlier, this portfolio includes a large number of themes to which different funds refer. Below you'll find the topics that we included under the Sustainability macrotrend.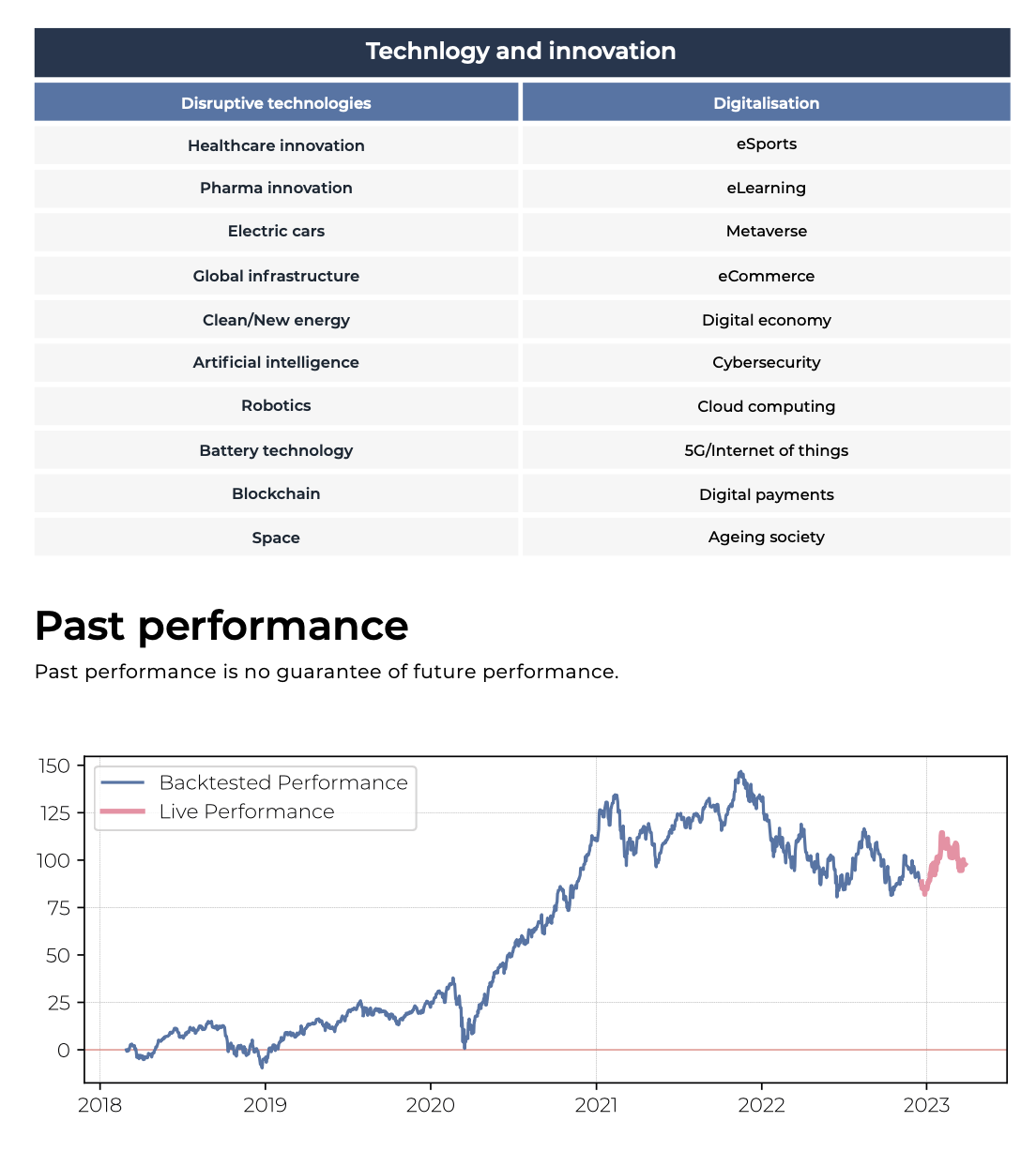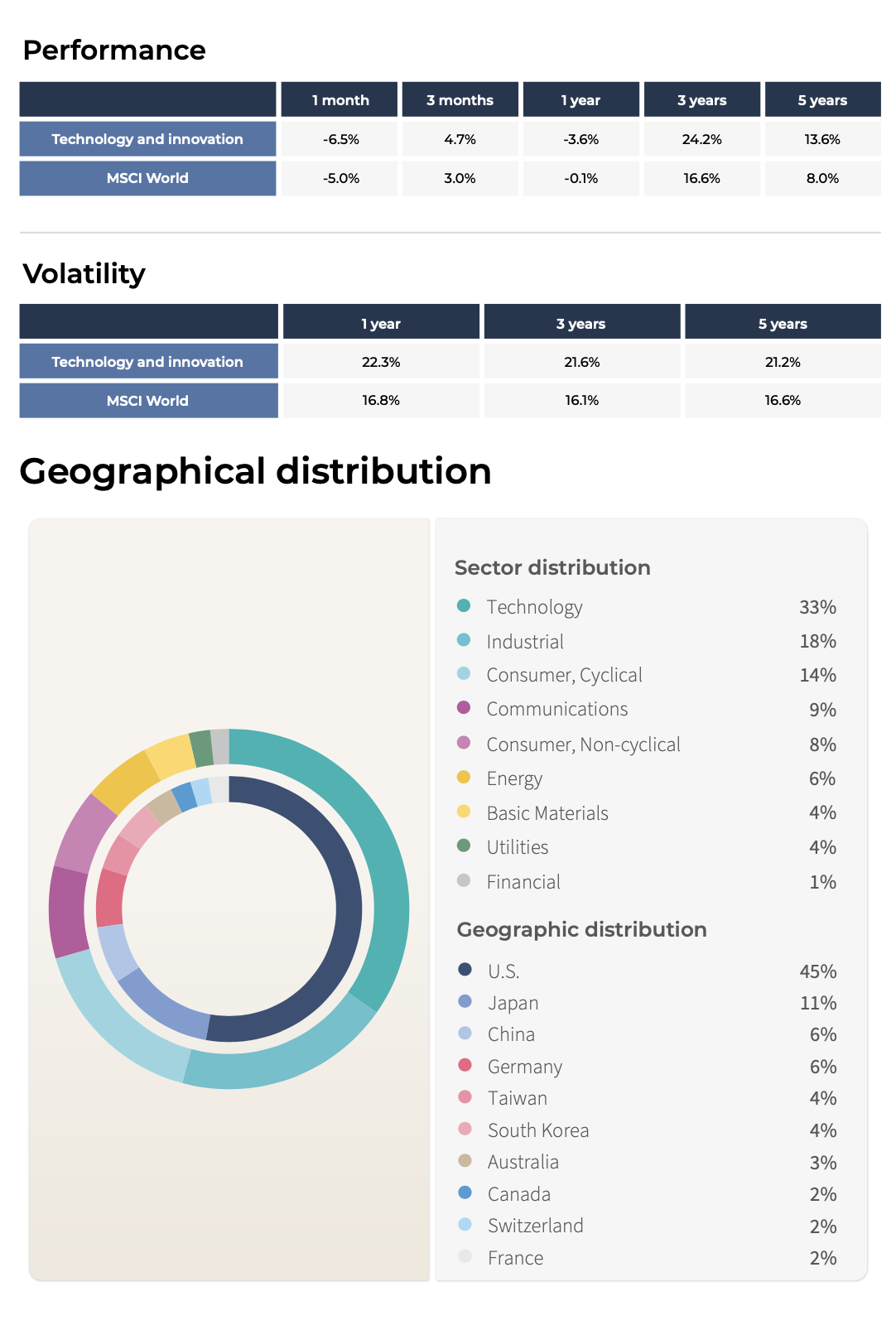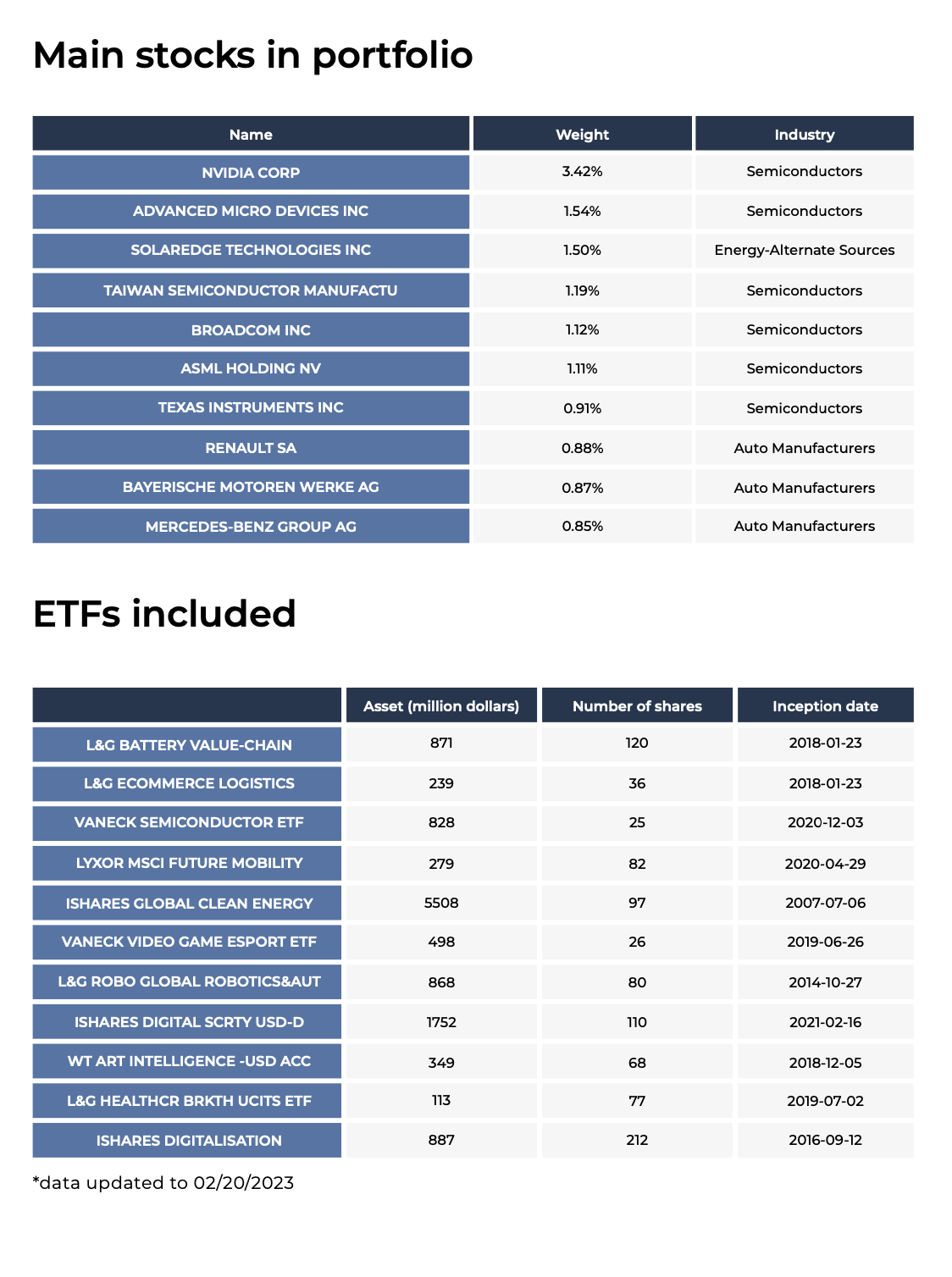 Bearing in mind that past performance is no guarantee of future performance, these are some of the (theoretical) results that the portfolio would have achieved in recent years.
What should investors do?
We have decided to offer thematic portfolios to our investors because we believe they are capable of generating extra returns in the future.
This is an attractive option for investors looking to increase the sophistication of their portfolio, and tailoring it according to their individual investment style and personal preferences.
You can choose to allocate part of your fund to one or more of our thematic portfolios. We take care in suggesting the maximum amount you can invest to keep the risk profile of your investment consistent. You can then access investments through our platform or app, or contact our team of expert advisors with any questions or queries you may have.
Match with a portfolio and start investing today
Simple, efficient and low cost, Moneyfarm helps you protect and grow your money over time.
Sign up with Moneyfarm today to match with an investment portfolio that's built and managed to help you achieve your financial goals.
Make your money work harder for you, without breaking a sweat.
Capital at risk. Tax treatment depends on your individual circumstances and may be subject to change in the future.
*Capital at risk. Tax treatment depends on your individual circumstances and may be subject to change in the future.