2020 has brought with it a plethora of unexpected challenges. In the midst of an unforeseen global health crisis, people rightfully had more to worry about than the economy, but conditions in March and April threw up near-unprecedented levels of financial turmoil. Markets plummeted and a mature bull market came to an end in what was a chastening few months for many. 
Despite the months of upheaval there have, as ever, been opportunities to be found among the noise. Following the initial downturn, markets saw their best quarter since 1987 and a great deal of the losses of the first quarter were recovered in the second. Volatility like this tends to make investors uneasy, but is it time to meet the storm head-on? 
Is now a good time to invest?
As a wealth manager, we get asked regularly about the merits or pitfalls about investing in any given moment. The answer is almost always complicated and uncertain – no one can predict market movements accurately enough to invest or sell with absolute confidence.
However, if there is one constant thread that has run throughout our years of growth it is that, if you have a long enough time horizon, current market conditions really do not matter all that much. As we will explore, even the most unfortunate investors can make their money back (and then some) by simply staying the course. 
Buying in times of uncertainty is often rewarded – selling, on the other hand, is a very different matter altogether. It is reasonable to conclude that, in the long run, investing has much less to do with timing than it has to do with the much less tangible metric of 'investor character'. 
Trust your fear of missing out
To examine the impact of missing out on periods of market recovery, we examined two hypothetical – and identical – investment portfolios (see the graph below). One portfolio was pulled out of the markets during the five most significant dips of the last 10 years, including the current one, only to reinvest once the volatility had calmed down and the markets had recovered.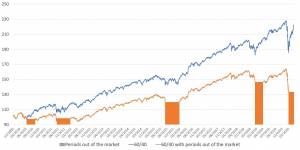 The other portfolio, represented in blue, stayed the course and rode the dips in favour of reaping the rewards of the recovery. In the case of every significant market dip, staying put and waiting for the recovery led to better growth in the long term. The graph below illustrates not just the potential reward when an investor stays the course, but also the ability of a poorly timed sell to crystallise losses. 
The most recent dip, caused by the global pandemic, is perhaps the most interesting and dramatic case. The drop in prices was sudden and continued on with many investors wondering just how low things could go. After near-unprecedented movement, markets showed their resilience and climbed almost as sharply as they had fallen. 
We make money simple for over 80,000 investors
Find your ideal ISA today
Start now
In this instance, buying anywhere along the sharp recent recovery would constitute a win for investors. There is no guarantee that prices will continue to rise but, if they do, the dip itself will have provided far more opportunity for long term investors than it did cause for concern. 
Within the context of our study, had you been unlucky and bought at the very top of the market, before the pandemic caused the significant dip, you would now be seeing your investments near their pre-pandemic levels. By staying invested and riding the wave, you would have seen those losses returned in what was a sharp recovery. Ultimately, the only way to crystallise and guarantee losses is to sell, or avoid investing in, the dip.
Part and parcel of investing
The bottom line is that, when investing for the long term, there will be falls. Growth over the long term might be positive, but within that growth there will be drops in value thanks to all manner of different factors. 
This is just one of the reasons that frequent trading – or timing the market – is a bad idea. On top of it being a time-consuming process (if it isn't, you're not doing it right), you can also rack up costly trading fees that will further eat into your returns. A lot of people will preach the game-changing merits of market timing and following your instinct, but for every success story there are innumerable examples of people losing money. 
Historically, over the years, there have been a handful of great days for the stock markets. Growth is often steady, but every so often a spike will send prices soaring. Missing just a few of these already limited days can be the difference between an exceptional return and disappointment. With this in mind, it is often the case that the best thing an investor can do is to stay invested, even throughout periods of volatility. These periods tend to be when the best (and worst) days occur, so missing out due to a poorly timed sell or a delayed investment can be costly. 
Spread the cost to avoid missing out
When we talk about 'buying the dip', we don't necessarily mean transferring all your cash into stocks and shares when you perceive the market to be bottoming out. For many investors, the idea of putting a lump sum out there at once is daunting. 
We recently published a full blog post on the merits of pound cost averaging in uncertain times. Our service makes it possible to drip feed cash into active investments, spreading the cost of investment over an extended period through regular, smaller top ups. 
What this allows investors to do is smooth out the fluctuations in an asset's price over time. This approach negates the difficulty and risk inherent in timing the markets, because that simply isn't the goal. Pound cost averaging allows investors to invest in the markets throughout a period of fluctuation without taking on the losses of any dip too heavily. It means that, ultimately, the most difficult decision you need to make is how much and how often you want to invest – the rest is down to us. 
So, if you want to take full advantage of the possibilities the current period of volatility might throw up, there are multiple ways you can do it. As with all investing, it is advisable to have an experienced wealth manager invest on your behalf and in line with your long term goals, but it is up to you how much of your wealth you commit to the project and over what timescale.
Match with a portfolio and start investing today
Simple, efficient and low cost, Moneyfarm helps you protect and grow your money over time.
Sign up with Moneyfarm today to match with an investment portfolio that's built and managed to help you achieve your financial goals.
Make your money work harder for you, without breaking a sweat.
As with all investing, your capital is at risk. The value of your portfolio with Moneyfarm can go down as well as up and you may get back less than you invest.