When saving for your retirement, it's vital to choose a provider that you can trust, so you can have peace of mind after leaving work. At Moneyfarm, we're dedicated to helping you try to grow your savings so you can enjoy the retirement you deserve. 
How Moneyfarm can help you prepare for retirement
Moneyfarm pension holders enjoy a range of benefits by keeping their retirement savings with us, including: 
Tax efficiency –

Get up to 25% boost to your pension, without making a claim to HMRC. You may be entitled to more or less than this amount, subject to your tax status.
Free drawdown –

Start to take benefits from your pension, including the ability to withdraw up to 25% of your pension tax-free as a single lump sum from 55. You can also pass on your funds to your beneficiaries free of inheritance tax. 
Targeted savings to suit your retirement plans –

We manage your portfolio around your target retirement date and will update your pension portfolio risk recommendations as the date approaches.

Expert guidance, every step of the way –

Our team of pension and savings experts are always on hand to help you make the best financial decisions possible. And best of all, all our consultancy services are completely free and only a phone call away.
The tax treatment depends on your individual circumstances and may be subject to change in the future.
Don't have a Moneyfarm pension?
Opening a SIPP with Moneyfarm is quick and easy. You'll enjoy a wide range of benefits when you start saving for your retirement with us, too. 
The process is quick and easy, whether you want to transfer an existing workplace pension to Moneyfarm or open a brand new account with us, our team are on hand to help you get the most from your retirement savings. 
You can apply for a new Moneyfarm pension on our dedicated page here, so simply give one of our team a call at your convenience. You can reach us by phone, email or by booking a free consultation here.
The latest data from ARC
With this in mind, as part of our commitment to total transparency, we'd like to share the latest data from ARC. We believe the latest figures demonstrate our ability to navigate challenging market conditions effectively on behalf of our pension holders. 
What is ARC?
Asset Risk Consultants (ARC) is a well-respected company in the financial industry that specialises in performance measurement and analysis of investment portfolios. They provide independent and unbiased data and insights that help us evaluate our performance.
ARC's data is considered reliable because they're an independent, trusted third-party source. This impartiality makes their data valuable for us so we can rely on unbiased information to assess performance. 
What is the ARC relative benchmark?
The ARC benchmark is a standardised set of performance data and metrics used by ARC, which serves as a reference point against which the performance of various investment portfolios can be compared. 
By comparing the metrics of a specific investment portfolio to those of the ARC benchmark, we gain insights into how well a portfolio has performed in relation to a broadly accepted industry standard.
Our latest figures from ARC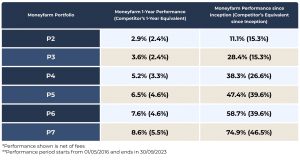 Past performance is not a reliable indicator of future performance.
If you'd like more information on your Moneyfarm pension or would like to open a pension with us, why not book an appointment with one of our experts? You can do so via this link or call us on 0800 433 4574. You can also email hello@moneyfarm.com or start an online chat session. 
As with all investing, your capital is at risk. The value of your portfolio with Moneyfarm can go down as well as up and you may get back less than you invest. If you are unsure investing is the right choice for you, please seek financial advice.
*Capital at risk. Tax treatment depends on your individual circumstances and may be subject to change in the future.