There are many ways to save money for your children from the very basic to the more complex of products. But which one is more suitable for investing for the long term? The consensus is that a junior ISA (JISA) is one of the best ways to kickstart your child's investment.
Here we unpack why a JISA is so important, what the benefits are and how it compares to some other savings options. 
JISAs are very tax efficient
The yearly savings limit for a JISA is £9,000, but it's all tax free and doesn't count towards your tax allowance. Any income or investment returns on a JISA (e.g. interest, growth on investments) don't get factored into the child's allowance. Alll returns are protected from income and capital gains tax.
If you invest in a JISA with Moneyfarm now you can take advantage of long term expected returns that, according to our estimations, are set to be higher than the past decade. 
If you invest by the 6th of April deadline not only you can leverage your tax allowance for 2023, but you can also between £100 and £750 in cashback in Moneyfarm's new cashback offer depending on how much you invest in our accounts. 
It encourages savings discipline
Funds, once saved into a JISA, can't be accessed till the child reaches the age of 18. This means that it will instill a savings culture from a young age. It will teach children how to watch their money grow without the urge of spending it immediately.
Once a child reaches the age of 18, they can then access the JISA funds or keep on saving by converting the JISA into an ISA (Individual Savings Account). If the money from the JISA is cashed in it can be used to cover a raft of major expenses such as tertiary education fees, a deposit on a house or even a gap year trip around the world.
A strong potential to grow wealth through compounding
When it comes to investing, kids are very lucky to have many years ahead of them to save. Given the power of compound interest over time, that can mean a lucrative opportunity to grow their wealth exponentially. Imagine you started a Junior ISA for your newborn baby with £20,000. By adding just £200 a month, your child could have over £120,000 by the time they turn 20. Plus, if they keep up the contributions, they can expect to be millionaires before the age of 50. That makes a JISA one of the best gifts you could give your children.
The earlier you start, the better you can harness the power of compounding. When investing £9,000 per year: If you start a child's JISA when they are aged two then by 18 you would've probably saved £232,563.30 through an average growth rate of 5%. However if you wanted at the age of seven then you could potentially lose £89,309.16 through five years of not saving in the product (see below).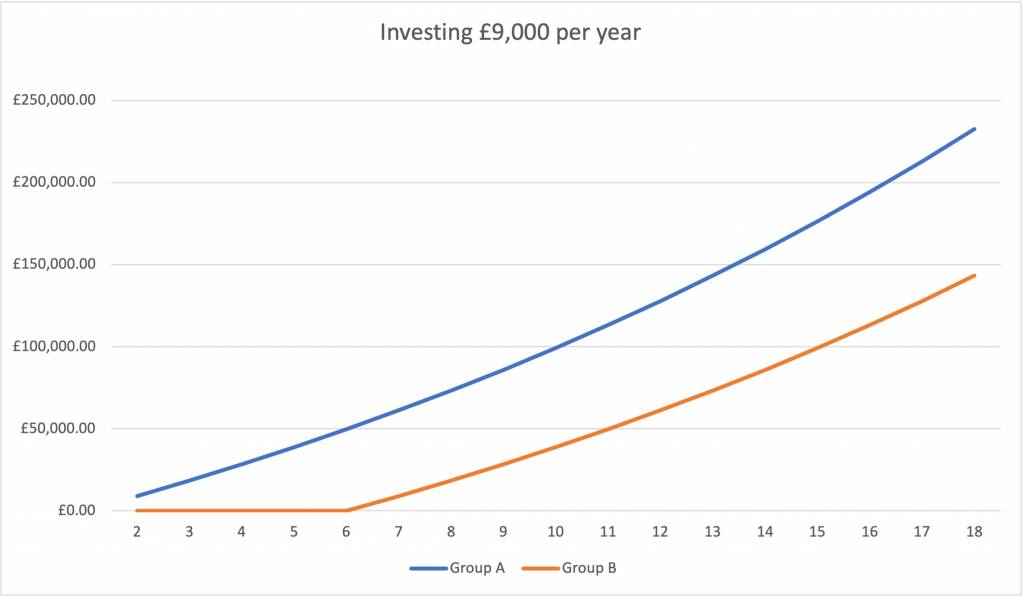 Anyone can pay into a JISA
Only a parent can open a JISA. However, another benefit of this product is that anyone – friends or other relatives can pay into it. Whether you pay yearly or monthly into the JISA is up to you. You can set up regular payments that come straight out of your specified bank account.
Make sure that you co-ordinate with any other contributors the amount you pay into it (whether yearly or monthly) so that you don't go over the £9,000 limit.
Annual management charges do apply to your JISA. At Moneyfarm we keep fees as low as possible – you could be charged between 0.35% and 0.75% depending on the amount saved. 
A JISA offers flexibility
You don't have to keep all your funds in a stocks and shares JISA. You can have one junior cash ISA and one Junior investment ISA at any one time. You just have to make sure you invest the right amounts in each so you don't lose the tax free status on the respective JISAs.
We make money simple for over 90,000 investors
Find your ideal ISA today
Start now
As with all investing, your capital is at risk. T&Cs and ISA rules apply.
While you can invest in a cash JISA it's important to consider that those funds will lose out on the potential returns and diversification benefits that stockmarket investments can bring. With Moneyfarm's stocks and shares JISA you have the option of investing in a diverse range of portfolios.
Another flexible benefit of a JISA sis that you can transfer funds from a Cash JISA into a stocks and shares JISA (and vice versa) and transfer funds from a Child Trust Fund (see below) into your JISA.
What are the alternatives to JISAs?
Children's bank account
Many high street banks as well as new disruptor financial services companies are now offering the option of a child's bank account.
Advantages: They're typically easy to set up and the main benefit of a child's bank account is that, unlike JISAs, money can be accessed at any time. Many also help to incentivise children to earn pocket money by doing various chores which can be ticked off in the app.
Disadvantages: There's typically no interest offered on a child bank account. However, if you're happy to lock your child's money away for a longer period you could get a higher guaranteed rate – again these can be beaten by stockmarket investments.
What's more, the savings in them can be subject to tax and fees. These are just straightforward accounts where money can be stored but they don't give you the diversification benefits and the type of growth you'd need for long term savings goals.
Child trust funds (CTFs)
This scheme closed in 2011 but there are still parents with CTFs as they were offered to children born between 1 September 2022 and 2 January 2011. You can have either a CTF or a JISA, but not both. You can transfer your CTF into Moneyfarm's JISA here.
Advantages:  They're also a tax free vehicle that can be used to save for your child's future. Like JISAs you can stick up to £9,000 a year in them. They came with a government contribution of up to £1,000.
Disadvantages: JISAs typically offer more investment choice. There are also more JISA products as there are no new CTF accounts coming onto the market, thanks to the closure in 2011.
Invest in a JISA now!
Overall, there are many reasons to invest in a JISA right now. The longer you put it off the more chance you have of losing out on interest as well as the benefits of compounding which could really give your investments a boost. 
Match with a portfolio and start investing today
Simple, efficient and low cost, Moneyfarm helps you protect and grow your money over time.
Sign up with Moneyfarm today to match with an investment portfolio that's built and managed to help you achieve your financial goals.
Make your money work harder for you, without breaking a sweat.
As with all investing, your capital is at risk. The value of your portfolio with Moneyfarm can go down as well as up and you may get back less than you invest.