Have you been keeping an eye on the money markets? Have you noticed an increase in savings rates? Are you thinking about putting some money away for a fixed period of time, but you're not sure what the best vehicle would be – a fixed rate bond or an ISA? Well, if you are, you've come to the right place. 
In this article, we are going to discuss the difference between a bond and an ISA, how they work, and which one might suit you best. Read on to find out more. For a more detailed overview of how Stocks and Shares ISAs work you can read more here.
About fixed-rate bonds
A fixed-rate bond is a type of savings account. This kind of account has a specific date at which you will be able to access the money you've invested – this is known as the maturity date. You can put any sum of money you like into the account initially, subject to the product provider's terms. You will be advised exactly how much money your account will have accumulated at the end of the term. However, you will not be able to access this money before the said maturity date.
About fixed-rate ISAs
A fixed-rate ISA is a savings account that allows you to save up to a specific amount of money every year. For the 2021/2022 tax year, this amount is capped at £20,000. As with a fixed-rate bond, a fixed-rate ISA will run for an agreed period of time. Any interest the ISA accrues will be tax-free.
Whereas you cannot access your savings in a fixed rate bond, you can in a fixed rate ISA, although an 'early access charge' will be levied if you do decide to make a withdrawal. The same goes if you were to choose to close the account or transfer it to another provider before it matures.
The benefits of fixed-rate ISAs
As well as the advantages mentioned above, fixed-rate ISAs have other benefits too. In total, they can be summarised as:
Being able to make tax-free withdrawals

Having a wider range of investment options

Portability

No wrapper charges

No extra charges

Any income from an ISA doesn't affect your age-related personal allowance

There are no upper age limitations

Savings can be passed on to a deceased investor's spouse via an inherited ISA allowance.
There are several different types of ISAs, each aimed at a specific type of investor. These include:
Cash ISAs

Stocks and Shares ISAs (also referred to as Investment ISAs)

Innovative Finance ISAs

Junior ISAs

Lifetime ISAs
What are income bonds?
Income bonds are another type of investment vehicle that pays regular interest to the investor. You can invest anywhere from £500 up to a maximum of £1 million, spread across any number of different income bond accounts. 
One big advantage with this type of savings account is that you have continual access to your funds at any time (no prior notice period is required) and without any financial penalty. Any interest your account makes (the interest rate is variable) is transferred directly to your bank or building society account. You pay income tax on the gross interest. 
Income bonds may be of interest to those who want to receive interest every month, but, having said that, at the present, if your account balance is under £646, you won't receive monthly interest payments. Income bonds might also be of interest to those who want to add to their savings on an ongoing basis, and to those who want instant access to their savings. 
Income bonds are not as interesting if you have less than £500 for investing, or if you prefer a fixed rate of interest.
What about premium bonds?
Premium bonds can be purchased by anyone over the age of 16. For anyone under 16, their parents, legal guardians, or grandparents are able to invest on their behalf. Each bond has a financial value of £1. The minimum investment is £25, and the maximum holding is £50,000. 
WE MAKE MONEY SIMPLE FOR 60,000 INVESTORS
Find your ideal ISA today
Start now
Rather than paying interest, premium bonds get entered into a monthly prize draw. The cash prizes that bondholders can win every month are: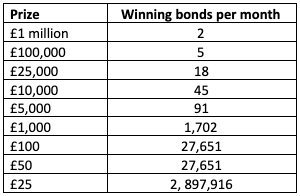 People who invest in premium bonds do so as a gamble. Bonds are only ever worth their face value, so if you don't win a prize, your investment doesn't grow. In real terms, it diminishes in value. Nonetheless, this is the UK's most popular form of investment, with over 21 million people investing a total of more than £100 million.
How premium bonds vs ISA
investments compare
If it comes to the question of an ISA or premium bonds, which way should you lean?
Let's face it, premium bonds are nothing more than a lottery whereby Ernie, short for "Electronic Random Number Indicator Equipment, selects random numbers that get compared to the serial numbers of bonds in the pool. 
You may, of course, never win a prize; in fact, the chances of winning equate to your investment earning 1% interest. So, with interest rates on regular savings and cash ISAs as low as they are, many people hope the chance of winning a big prize is worth taking. At least the NS&I has the Treasury's backing, so it's safe.
The fact remains that, over time, when you compare a cash ISA or premium bond, money invested in premium bonds erodes in real terms, but less so than with a Cash ISA. So, you are probably best advised to spread your savings across various options.
What is the difference between an ISA and a bond
?
ISA bonds are not the same thing. They are similar in some ways, but they are different products – ISA and bonds differ in as much as with an ISA, you have access to your savings, whereas, with a bond, you do not.
When you compare ISA fixed-rate bonds together, at least you have the peace of mind of knowing how much your investment will be worth upon maturity. But what about stocks and bonds ISA, also known as an investment ISA?
ISA bonds
Some people refer to 'ISA bonds' when talking about stocks and shares ISAs, also known as investment ISAs. These products are interesting because whereas the interest on fixed-rate cash ISAs and bonds is relatively low, you can earn a much higher rate of interest with an investment ISA. But what it all boils down to is your attitude towards risk.
A stocks and shares ISA is reliant on the ups and downs of the stock markets, and there is no guarantee that you will recoup your investment in full when your policy matures. You can, however, opt for different risk options; high, low, or medium.
Seeking professional help when making a choice
There are many things to be considered when weighing up the advantages and disadvantages between bonds and ISAs to arrive at the best choice. It's very much a case of risk versus reward. In the end, only you can make the decision, but it is always a good idea to get professional advice from a wealth management consultant.
Match with a portfolio and start investing today
Simple, efficient and low cost, Moneyfarm helps you protect and grow your money over time.
Sign up with Moneyfarm today to match with an investment portfolio that's built and managed to help you achieve your financial goals.
Make your money work harder for you, without breaking a sweat.
As with all investing, your capital is at risk. The value of your portfolio with Moneyfarm can go down as well as up and you may get back less than you invest.