Boris Johnson's gamble has paid off. The Conservatives won big last night, confounding election polls and securing the biggest Conservative majority since the 1980s. 
As a result, the electoral map has been redrawn. With Labour's red wall crumbling, the Conservatives won a number of seats from traditional Labour heartland. Boris Johnson is heading back into Parliament with a clear mandate to, in his own words, 'Get Brexit Done'.  
Removing some of the uncertainty that has clouded the UK's future since 2016, the Prime Minister's majority should end the Brexit deadlock in Parliament. Johnson will enjoy greater flexibility in upcoming trade talks and, unless something strange happens, the UK will leave the EU in January. Johnson will then enter talks with the EU to negotiate a trade deal.
The UK political landscape
To have a majority in the House of Commons, you need 326 seats. The Tories are currently at 364 seats (with one result still to come). It represents a solid working majority that should allow Boris Johnson to push forward on his post-election plans.
For Labour, this is their worst Labour result since 1935. It was significant rejection of both their Brexit policy and Jeremy Corbyn. The leader announced that he will not lead the party into another election, but has pledged to stay during a period of 'reflection'. 
The general expectation is that his MPs will seek to remove him from power sooner rather than later, but the left of the party retain control of the party's structures. Corbyn's legacy therefore looks set to continue for now. Whilst he may remain popular with the membership, he was clearly a liability in traditional Labour seats outside London. 
For the Liberal Democrats, despite picking up the odd seat such as Richmond Park, the significant loss of seats like that of their leader, Jo Swinson, suggests that, even for many Remainers, the battle for Brexit was done –  at least in England. 
The Scottish Nationalists were the other winners on the night, gaining 13 seats. The SNP will use Brexit and these results to push for another independence referendum (because apparently we need referendums like we need air). That's a political sub-plot that's likely to run for a while.
What this means for Brexit
The Conservatives now have a clear mandate to leave the EU and that's what they'll do. The talk is of an accelerated timetable to get the withdrawal agreement passed by the end of January. 
Johnson always claimed he wanted a comprehensive deal between the EU and the UK completed by the end of 2020. That seems like a stretch, but his position is secure enough that he can probably let it drift if he has to.
What type of Brexit deal we actually get is still up for debate. There are two schools of thought. Will we get a Hard Brexit like that favoured by the Euro-sceptic ERG or will Boris Johnson use his majority to soften the edges – assuming the EU is amenable.
Non-Brexit policies
The policy-thin manifesto on which Johnson stood provides him some flexibility to chart his own course. However, it may also provide an opportunity for the House of Lords, where the Conservatives are in a minority, to be more robust in challenging legislation.
The Conservatives won a number of traditional Labour seats, and it will be interesting to see whether these new MPs will put pressure on Johnson to increase government spending. If they do that successfully, they could shut out Labour for some time. We'd guess that higher government spending will be the order of the day – just how high is still in question.
If we see government deficits rise on increased spending and investment, this could put some pressure on UK sovereign bond yields, but might also provide a bit of a stimulus for growth – helpful for an economy that needs a boost.
The question many are asking of this new era of Johnson's premiership, is whether he will be a radical or One Nation Prime Minister? Whatever route Johnson chooses, he wakes up this morning as the most powerful Prime Minister since Tony Blair.
What happens next?
Timeline
December 2019
13th: Ministers appointed
17th: Parliament returns, MPs are sworn in
19th: Queen's speech (expected)
23rd: First Reading of EU Withdrawal Bill (expected)
23rd: House Rises
January 2020
6th: MPs return from Winter Recess
W/C 6th: Second Reading of EU Withdrawal Agreement (expected)
WE MAKE MONEY SIMPLE FOR 60,000 INVESTORS
Find your ideal ISA today
Start now
Before 31st: EU Withdrawal Bill approved, UK leaves the EU (expected)
February 2020
W/C 3rd: Budget (expected)
Johnson will take the weekend to appoint his Ministers. A reshuffle is on the cards, but he may wait until the New Year when mooted plans to merge government departments could be rolled out. 
MP's will be sworn in when Parliament returns on Tuesday and the Queen's speech should give a clearer indication of the Conservative's legislative programme for 2020. Brexit will be the focus, but the Conservatives could also introduce legislation on housing and an Environment Bill ahead of the COP 26 UN Climate Change Conference in Glasgow in November. 
A Budget in February could unveil a significant investment in the NHS, police and infrastructure spending – particularly on science, innovation and R&D.
Trade deal negotiations will begin in earnest in the coming months. These may only begin in March 2020, as it could take weeks for the EU to formalise a negotiating mandate that all members agree on. 
A final agreement is needed by June, otherwise the UK will need to decide whether to request to extend the transition period by one or two years. If no deal is agreed by December 2020, the UK could leave without a trade deal.
Most of those who know Johnson, suggest that he will seek a free trade deal which allows regulatory divergence from the European Union but with so many new MPs, it is too early to judge how loyal his backbenchers will be during trade talks.
How markets reacted
 As expected, UK assets have rallied since. The pound soared more than 2% in its sharpest rally in nearly three years, although still well below the level where it traded immediately before the EU referendum. 
At first glance, it seems fair to argue that a Tory majority was still regarded as a relatively high probability event in financial markets – even if the size of the majority may have come as a surprise. 
Impact on portfolios
The sterling-hedged ETFs in our portfolios will mitigate some of the temporary impact of a sterling/FTSE rally in our globally diversified portfolios. 
Betting on elections is a fraught business and is never a game we've wanted to play – it's fair to say the scale of the Conservative win isn't the result many investment managers would have bet on.
A key question is whether this the start of UK large cap equities regaining some of their underperformance? Perhaps, or this may already be in the price. 
Is uncertainty over?
Whilst Johnson has a clear mandate to deliver Brexit, it's clear that uncertainty isn't over. Against this backdrop, it's more important than ever to avoid knee-jerk reactions and maintain focussed on your long-term goals. 
Imagine you had £20,000 to invest and wanted to set up a £500 monthly direct debit for a financial goal ten years away – £41,500 in total. You wanted to invest in a Moneyfarm portfolio in 2016, but then the referendum was announced and you had a dilemma in the face of uncertainty: Do you continue with your long-term investment plans or wait until uncertainty cleared a little bit? 
It's easy to put off investing during periods of uncertainty. But if you'd delayed any investment decisions to avoid Brexit uncertainty, you could have missed out on significant gains since the referendum. Especially after the strong performance of our portfolios this year. 
Cash isn't as risk-free as it would lead you to believe. Whilst you might not be directly exposed to the volatility of the financial markets, you could miss out on potential growth in the value of your capital, and inflation could reduce the purchasing power of your money over time.
Put simply, if the returns on your savings account – or investments – aren't keeping up with the pace of inflation, your money is losing value. 
The chart below shows what your capital would be worth today if you had kept it in cash or invested it – specifically in Moneyfarm low risk (P2), medium risk (P4), and medium-high risk (P6) portfolios.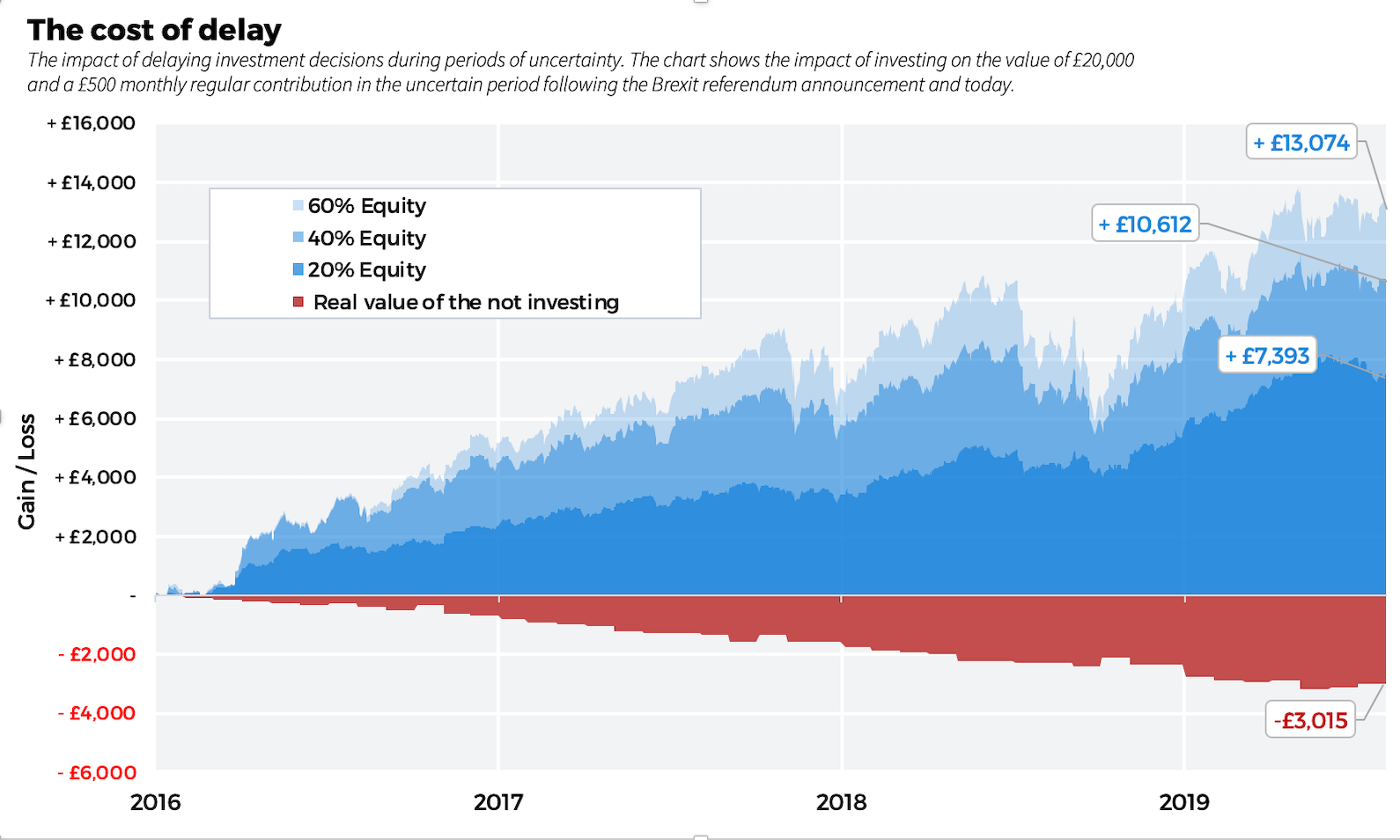 If you had kept your money in cash, inflation would have eaten into the value of your savings, reducing it by over £3,000 to just £38,485.
Had you invested in Moneyfarm's medium-high risk portfolio P6, you'd have made over £13,000 in profit, leaving you with £51,559 today. You'd have £46,004 if you'd have invested in a P2 and £49,097 if you had invested in a P4.
Moneyfarm globally diversified portfolios have benefited from strong global market performance in 2019, but it's clear that sticking to your investment strategy during uncertainty would have taken you a leap closer to your long-term financial goals. 
Get in touch
If you have any questions about how the general election result impacts our outlook or your investments, please get in touch with your Investment Consultant on 0800 4334574.
Match with a portfolio and start investing today
Simple, efficient and low cost, Moneyfarm helps you protect and grow your money over time.
Sign up with Moneyfarm today to match with an investment portfolio that's built and managed to help you achieve your financial goals.
Make your money work harder for you, without breaking a sweat.
As with all investing, your capital is at risk. The value of your portfolio with Moneyfarm can go down as well as up and you may get back less than you invest.