As part of our service, our investors get a full report every quarter. It's essentially a rundown of how their portfolio has performed over the three-month period, but placed into the context of the wider economic developments that have made an impact. 
For example, the third quarter of 2020 brought with it steady progress in some areas and hurdles in others. Our customers receive a full analysis of where investors have won and lost across the quarter, while we also look ahead to the US election and the continued coronavirus recovery. 
How our portfolios performed
At its core, the report is about investment performance. Our clients receive a detailed breakdown of how their portfolio performed over the quarter and beyond, with a comparison to an industry-standard so they can assess how well placed their money is. 
Here's an example of the performance chart featured in the report, taken from our P3 model – a 'medium risk' portfolio.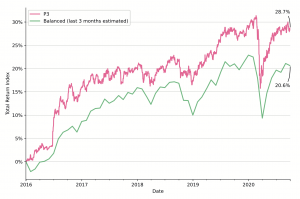 The report goes into the asset types that performed well, as well as highlighting areas that underwhelmed. Ultimately, we keep our investors up to date not just with the performance of their investments, but they're given a good idea of the specifics that have made a difference on a local and global level. 
Where we invest 
The quarterly report also gives investors all the info about what actually makes up their portfolios. The percentage of different assets in a portfolio is based on the risk level appropriate to that given investor – put simply, higher risk portfolios will generally include more equities while lower risk will be made up of more bonds. 
If we take a look at the P3 example again, you'll see it's a balanced portfolio, with neither bonds nor equities dominating. 
WE MAKE MONEY SIMPLE FOR 60,000 INVESTORS
Find your ideal ISA today
Start now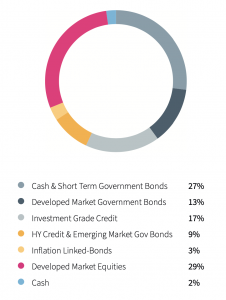 There's plenty more in the report, including a breakdown of how asset allocation for that risk level has changed over time. For the inquisitive investor, it's a snapshot of how our broader investment strategy works, on top of a breakdown of their personal portfolio. 
Onto the next quarter
The quarterly report is, however, more than just a retrospective look at the preceding three months. 
Our investors also get insight into the factors that could affect the portfolios going forward, looking at everything from the US election to the potential coronavirus vaccine and how explaining they inform our outlook. 
As a wealth manager, it's important our investors know their account is being proactively, thoughtfully managed. Insight into our outlook for the coming few months is a big part of that process. Our clients also hear directly from the team – here's a word from our Chief Investment Officer, Richard Flax. 
"Looking back on the third quarter, it seems fair to say markets remained quite optimistic. Equities in the US and China rose over the quarter, while European stocks were largely unchanged… 
"On balance, we'd argue that the combination of strong policy support, gradual progress on a vaccine and stuttering improvement in the global economy has been enough to support global equities."
If you want to see an example of the report in full, or want to discuss your own investment options, get in touch with our investment advisory team by phone or by email. They'll be happy to help. 
Match with a portfolio and start investing today
Simple, efficient and low cost, Moneyfarm helps you protect and grow your money over time.
Sign up with Moneyfarm today to match with an investment portfolio that's built and managed to help you achieve your financial goals.
Make your money work harder for you, without breaking a sweat.
As with all investing, your capital is at risk. The value of your portfolio with Moneyfarm can go down as well as up and you may get back less than you invest.