Managing your pension pot to ensure you're on track for your retirement goals can be difficult, but life's too short to forget to prioritise the future you.
That's why Moneyfarm has decoded the pension landscape with this free eBook, to make reaching your retirement goals as simple as possible.
In this book we explain how investment advice on your pension could help unlock the future you deserve and give you the freedom and financial confidence to focus on the important things in your life today.
This guide covers:
The tax benefits to a personal pension

The role of investment advice when it comes to pensions

How fees can impact your retirement income

Regular investment plans to help you get a good income

Why you might want to transfer your pension

How the Moneyfarm Pension can help you

Are you getting the most from your self-employed pension?
If you've got any questions about the Moneyfarm Pension, please contact one of our Investment Consultants on 0800 4334574.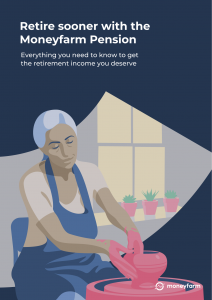 FREE DOWNLOAD
* Once submitted we will email you a link to download the report.