The business of football is a money minefield, but it seems many understand the minutia of the football industry better than their own financial decisions as everyday investors. Yet, the questions we ask of football managers are the same we ask of ourselves when it comes to money management.
With this free report, we explore how the business of football operates. By matching managerial approaches of premiership teams against investor profiles, we examine how the factors that lead to success on the field can be translated to personal wealth management.
We bring to life the wins and losses resulting from business decisions and the typical financial behaviours of some of the country's leading managers.
The report covers:
The investment decisions of football managers

How league position and transfer spend correlates

The use of diversification in your portfolio and on the pitch

The right strategy for the long-term success of football clubs

How managerial styles can be translated from the beautiful game to investment behaviour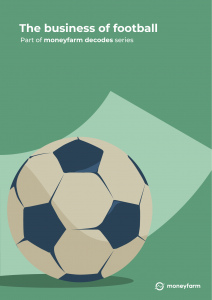 FREE DOWNLOAD
* Once submitted we will email you a link to download the report.