Why is planning for our future so difficult? We all know what we should be doing: eating a healthy diet, exercising, drinking less, saving money etc. But many of us don't act, even if the intention is there.
With this report we explore why as a society we find it difficult to invest in our future happiness and wellbeing. Why we frequently give in to temptation, or cultural pressures and buy a new gadget or outfit instead of saving that money for the house we hope to buy, or putting it into our pension. Is short-termism driving our behaviour and why?
Are we a society with no time to digest and interpret complex messages – or simply a nation overwhelmed by choice?
By decoding short-termism, the origins drivers and psychology behind this modern phenomenon, we hope to better understand our current behaviour and equip you with the tools and advice you need to achieve a healthy balance. Ultimately we want you to be able to enjoy life in the future just as much as you do today.
We've worked with a panel of world-leading experts spanning science, psychology and trends, supported by original quantitative consumer research to develop this study into short-termism and its impact on our current and future lives.
The report covers:
What short-termism is
The impact short-termism has on your future
Saving and spending habits
How resistant we are to change
How happiness and regret plays into financial planning
Top tips on how to plan for the future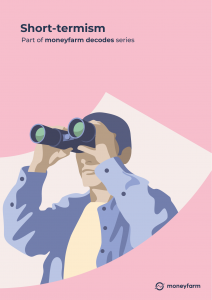 FREE DOWNLOAD
* Once submitted we will email you a link to download the report.